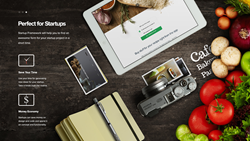 New York, NY (PRWEB) March 20, 2014
New downloadable software is making it easy for just about anyone to launch a top-notch website in no time. Startup Design Framework and the Generator landing page tool are easy to use and allow users of any skill level to create a high-quality and modern website.
Startup Design Framework includes a fully responsive layout. So it works on desktop computers, tablets and mobile devices with just one site. The interface is retina-ready and features components with a modern style. The kit makes it easy to create a full website without any coding knowledge and includes 25 usable templates and sample pages that are launch ready. Video presentation - http://vimeo.com/81676731
The Generator web app for Startup Design Framework allows users to create a highly visual landing page in minutes, using a drag and drop interface. Designs can be exported to HTML and CSS with a single click.
This package of tools is a must have for any new business or startup venture. The affordable package starts at just $249 for a commercial license - significantly less than hiring a firm to create a website design package. Plus, users can create a full site and launch quickly and easily.
Learn more about Designmodo packages, download Startup Design Framework demo and start building a perfect small business website today at designmodo.com.
About Designmodo
Designmodo is a web-based company that specializes in creating user-interface kits for personal and commercial use. Designmodo is the company behind popular products such as Flat UI and Startup Framework. Designmodo also provides articles, tutorials and advice with a highly-recognized, robust blog that focuses on web design and development, tips and tutorials and design inspiration. Designmodo has been serving the web design and development community since 2010.
Contact:
Designmodo Inc.
http://www.designmodo.com
50 N. 1st St.
Brooklyn, NY 11249
(646) 492-9315
info(at)designmodo(dot)com