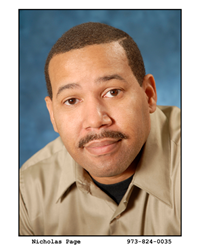 This is a exciting book for thoughts who love a little Drama, Action, and Romance in one story.
(PRWEB) March 31, 2014
Nicholas Page has created a 296 page novel about Barbara B. Brown's persistent determination to marry her long-time flirtatious millionaire friend, Robert Q. Jones. Robert is a single man who enjoys pleasuring multiple women throughout Jonestown, and has no intentions of marrying Barbara. Throughout the book, Robert tries to keep their relationship platonic, but Barbara is a woman who simply doesn't back down.
As a result of this relationship, the book provides the reader with the good, the bad, and the ugly of the relational complexities between the main characters. As Barbara persistently tries to persuade Robert to be her man, the situation unfolds to create plot twists and a page-turning emotional rollercoaster for the reader. This creative story is not only about the love between two people who are complete opposites pursuing an unorthodox relationship, it also deals with their back stabbing friends, a gold digging family member, and deadly confrontations with a terrorist organization.
"This is an exciting love story that has action, romance, drama, and adventure. The first story ends with Flirtatious, but continues in the upcoming book, Flirtatious 2," says Nicholas.
"Flirtatious" can be purchased on Amazon via the following link:
http://www.amazon.com/Flirtatious-Crazy-Story-Persistence-Attitude/dp/1460222318/ref=sr_1_2?ie=UTF8&qid=1395773841&sr=8-2&keywords=flirtatious+by+nicholas+page
About Nicholas H. Page
A natural storyteller with a penchant for the exiting and adventurous, author Nicholas H. Page creates relatable and recognizable stories with which the reader can identify. As a keen observer of human behavior, he endeavors to illustrate universally-encountered situations through the lives of his characters. His paramount goal as an author is to entertain, enlighten, and bring genuine laughter to the heart of his audience.