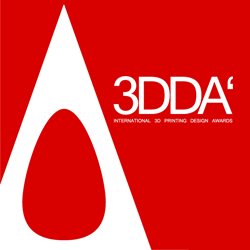 Best 3D Printing Designs and Technologies will be highlighted.
Como, Italy (PRWEB) March 10, 2014
Today, A' Design Award & Competition announced a call for entries to the annual International 3D Printing Design Awards. The International 3D Printing Design Awards (3DDA) will celebrate the success of people, companies, and technologies that are driving progress in 3D design and manufacturing industries worldwide. The 3DDA awards program will especially honor innovative 3D printing and rapid prototyping materials, tools, services, forms and products from all countries.
The 3DDA 3D printing competition and awards are open to all 3D printing products, projects and designs. Both realized and concept stage entries will be accepted. Entries could be presented by renderings as well as photographs. Entries will be judged by a grand jury panel of academics, design professionals, entrepreneurs and media members. Entries will be voted on criteria such as creative excellence, innovation, use of technology, efficiency and optimal use of materials.
Laureates of the 3DDA Awards will earn a special PR campaign to celebrate their award status, and they will also receive the 3D Printed metal design excellence trophy, certificate for design excellence, hardcover annual yearbook of best entries, and invitation to award ceremony, gala-night and exhibition in Italy. The PR Campaign includes but not limited to the life-time license of the "award winning design" logo to place on products and to use for marketing communications, translation of awarded project descriptions to twenty languages, plus press release preparation and distribution to tens of thousands of editors in all countries. Laureates will also have the possibility to sell their designs and products at the Design Mega Store.
Entries can be made online by registering and uploading high-resolution images at http://www.adesignaward.com where presentation guidelines, eligibility criteria, list of jury members and further information could also be found. Entries shall be made before March 30, 2014 and results will be announced on April 15, 2014.
About the International 3D Design Awards
3DDA awards were established as platform for the recognition of excellence in the worldwide 3D printing industry by highlighting the original and innovative use of 3D printing technologies which results in resolution of manufacturing challenges, enhancement of product specs and improvement of efficiency. The 3DDA awards help designers and companies worldwide to socialize, network and connect with leading companies, press members and best designers.
About the A' Design Award & Competition
A' Design Award & Competition are established to accelerate development of ideas, designs and technologies worldwide that could help increase manufacturing capabilities, sustainability and quality of life in all countries. Every year, more than hundred different design competitions are organized in order to create incentives for designers and manufacturers from different industries to come up with superior product designs that are not only visually appealing but also useful, functional and socially beneficial. Learn more about A' Awards at http://www.whatisadesignaward.com.