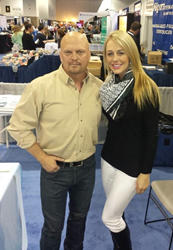 Not only does the Herbst device improve production at work, but it improves quality of daily life.
Phoenix, AZ (PRWEB) April 03, 2014
David Gergen created a company that travels the country to promote awareness of the disorder, educate the public on treatments/effects of untreated sleep apnea and direct patients to the most qualified doctor in that community. The company, called Pro Player Health Alliance, teams up with NFL legends who have had personal struggles with sleep apnea to attract an audience whom they share their testimonies with. David Gergen says, "Creating Pro Player Health Alliance has brought a new wave of awareness to the public by NFL greats sharing personal struggles, experiences and losses with sleep apnea."
David's inspiration in many of his endeavors has been Courtney Meier. Courtney, who attends the gym regularly along with David Gergen, planted the seed years ago for Mr. Gergen to include overall health in his focus stating that "nutrition and exercise are just as important as sleep". Mr. Gergen says, " I wouldn't have known some of the things I know today. She truly has been the missing piece of the equation."
With Courtney Meier's five years of partnership, David Gergen has been able to succeed in all areas of dental sleep medicine and incorporated overall health into the process. David often mentions Courtney pushed him to get into better personal shape as well.
David Gergen has also teamed up with The Living Heart Foundation headed by Dr. Archie Roberts, who appointed Gergen as the director of sleep for the HOPE program.
With David Gergen forming an alliance with NFL players, trusted advisers such as Courtney Meier and the top doctors in North America, he has officially taken the initiative to becoming one of the top "offenses" against sleep apnea in North America.
ABOUT DAVID GERGEN
As President of Pro Player Health Alliance, he has been a nationally respected dental lab technician for over 25 years. He received the award for "The Finest Orthodontic Technician in the Country" given by Columbus Dental in 1986. He also has been appointed chair of the dental wing of the American Sleep and Breathing Academy, a national interdisciplinary academy dedicated to sleep training and education. He has worked for some of the pioneers in the orthodontic and sleep dentistry fields. One of his proudest achievements is receiving The National Leadership award for Arizona Small Businessman of the Year in 2004.
ABOUT PRO PLAYER HEALTH ALLIANCE
The Pro Players Health Alliance (PPHA) is an organization dedicated to helping former NFL players, through providing testing and treatment options for those who suffer from sleep apnea. In addition, the PPHA is dedicated to integrating education and raising sleep apnea awareness, in a fun and memorable way. In addition to the campaign, the PPHA is dedicated to testing and getting people treated who suffer from sleep apnea. The PPHA was created by David Gergen, President of Gergen's Orthodontic Lab and Former NFL legends.