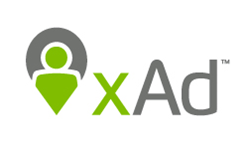 New York, NY (PRWEB) April 02, 2014
Cox Digital Solutions has selected xAd, as its premiere mobile-location platform partner and will serve as the exclusive reseller of xAd in Cox Media Group designated market areas.
Given recent research citing consumers growing usage of multi-screen media behavior, xAd's mobile ad platform is the perfect compliment to Cox Digital Solutions' existing television, online display, rich media, and digital video offerings. With a full suite of targeted mobile ad products available to Cox Digital Solutions' customers, the robust xAd mobile platform further empowers Cox Digital Solutions to execute all customer interactions as a single source and to seamlessly deliver consistent brand experiences – cross screen, to its growing customer base. New localized mobile ad products developed through the partnership, will be available through Cox Digital Solutions direct sales channels, programmatically, and will also be leveraged in Cox Digital Solutions suite of audience extension products.
Also, with a highly competitive 2014 midterm election season approaching Cox Reps, Cox Digital Solutions' parent company, will be the exclusive reseller of political advertising on the xAd platform. Cox Digital Solutions and Cox Reps are partnering to deliver multi-channel solutions for politicians and causes in 2014 — television, display, digital video, and now mobile — all designed and curated to reach the right audience in a relevant moment. Mobile is the ultimate hyper-local delivery mechanism and xAd heightens Cox Reps' political offering to reach voting audiences and social influencers with remarkable precision. Now, Cox Reps can target voters throughout their day as they stand in line at their local grocery, drug stores, at political events and rallies, sporting events and concerts, and more.
Through the partnership, Cox Digital Solutions will also leverage xAd's proprietary mobile-location technologies by integrating it into CDS Connect, Cox Digital Solutions' real time bidding platform, to support programmatic audience buying and unique location-based targeting strategies. This is the first mobile integration for CDS Connect and transforms it into a programmatic multi-screen platform serving display, digital video, and now — mobile advertising.
"xAd's platform provides an extension of Cox Digital Solutions' local product suite; working in partnership with xAd, we are able to offer our clients more exposure and measurable impact for cross-media campaigns," said Gene Pizzolato, president of Cox Digital Solutions.
"We're pleased to partner with Cox Digital Solutions, a clear leader in the local and digital space," said Dipanshu 'D' Sharma, CEO at xAd. "As the mobile industry continues to grow, precise location-based mobile advertising and accurate measurement will become an increasingly critical component of any effective cross-platform advertising campaign."
About Cox Digital Solutions
Cox Digital Solutions is a division of Cox Reps, part of Atlanta-based Cox Media Group. While both deliver target audiences to advertisers through tailored multi-channel solutions, Cox Digital Solutions also leverages a dedicated publisher team responsible for developing strategic inventory on its first-party CDS Connect RTB platform and Reach Extension products for publishers.
Cox Digital Solutions has long-standing, strategic, online publisher relationships locally and nationally as well as access to comprehensive third party audience data, which ultimately aligns advertisers with their precise target. Cox Digital Solutions provides creative and efficient multi-platform selling opportunities across Digital and Mobile channels. Cox Digital Solutions delivers one comprehensive media plan while offering ease of execution all with a single point of contact. Cox Digital Solutions offers innovative streamlined media opportunities for both advertisers and publishers.
About xAd
xAd helps brands harness the power of accurate location data to produce measurable results from mobile advertising. Through award-winning location technology that is precise, measurable and scalable, xAd's platform pinpoints target audiences by neighborhood, across the country and around the globe at pivotal moments during the consumers' path-to-purchase. xAd's platform drives results powered by search-enhanced targeting, ultimately yielding unparalleled performance. Founded in 2009, xAd serves more than 1.5 million national and local advertisers, while managing more than 30 billion location-verified ad requests monthly. Connect with xAd at http://www.xad.com, Facebook, Twitter and LinkedIn.
###