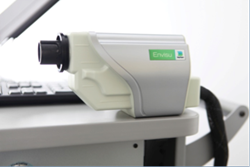 This latest innovation from Bioptigen enables faster alignment, targeted explorations, and brilliant visualizations, while simultaneously viewing both OCT and color fundus images in real time
Research Triangle Park, NC (PRWEB) April 09, 2014
Bioptigen announced today the availability of EnFaceTM color fundus technology delivering image-guided SDOCT into a single, compact, handheld scan head. The new color fundus system provides multiple, integrated modalities into each of Bioptigen's EnvisuTM preclinical SDOCT systems, producing brilliant, color fundus images captured simultaneously with OCT images. The new color image-guided OCT also complements Bioptigen's volumetric OCT image visualization, and dynamic 3D tissue flattening capabilities to create a powerful, comprehensive suite of tools designed to meet the exacting needs of the ophthalmic research community.
"This latest innovation from Bioptigen enables faster alignment, targeted explorations, and brilliant visualizations, while simultaneously viewing both OCT and color fundus images in real time", said Bioptigen co-founder and CEO, Eric Buckland. "We expect this capability will be impactful not only for mouse and rat research, but also for handheld, dual-modality imaging of larger animals including cats, dogs, rabbits, and non-human primates," Buckland added. Bioptigen has begun producing and shipping the new multimodality systems from the company's North Carolina operations center, and will showcase the product at ARVO 2014 in Orlando, May 4-8.
About Bioptigen
As a pioneer in the development and manufacture of leading edge Spectral Domain Optical Coherence Tomography (SDOCT) equipment and software, Bioptigen is helping researchers open windows into the wonders of ocular development and the mysteries of ocular disease. Deployed in top ophthalmic research and clinical institutions worldwide, Bioptigen devices are covered by 60-plus patent applications, including 40 awarded patents. More than 300 scientific articles have been published citing data acquired with Bioptigen technologies. Learn more about Bioptigen and its technologies at http://www.bioptigen.com.
Bioptigen Media Contact:
Ann Poorboy
Commercial Operations Project Manager
Phone: 1 919-314-5500 ext. 1263
apoorboy(at)bioptigen(dot)com
http://www.bioptigen.com