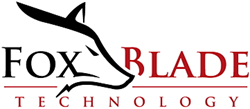 We are a company that serves IT best by serving people first. We have been doing it for years. We are known as one of the best in the IT industry. And we are just getting started…
Utica, NY (PRWEB) April 16, 2014
Hot on the heels of becoming a rising star in the competitive field of commercial IT solutions, FoxBlade Technology has launched a new corporate website reflecting its tremendous growth as well as an increasingly sought-after technical team.
"Our engineers hold some of the highest certifications across the entire IT industry," a FoxBlade spokesperson said. "IT solutions is one of the most competitive realms of modern commerce and having such an accomplished group working for our clients is something we are very proud of."
FoxBlade Technology's staff includes engineers certified in HP and Cisco, including the very prestigious Cisco Certified Internetwork Expert (CCIE) certification, commonly accepted as the global standard in IT technical ability. In addition to these, FoxBlade Technology engineers possess the most current credentials in cutting-edge information technology from providers of IT found throughout the industry. With adeptness across multiple hardware and software platforms from vendors including HP, IBM, Cisco, NetApp and EMC, FoxBlade Technology has attracted attention from organizations representing a broad cross-section of industries both domestic and foreign.
It is this success that has led FoxBlade Technology to launch a redesigned website to convey that success and the people behind it. "FoxBlade's mission has always been to put the best people working with the best design and equipment to give our clients the best advantage possible," the FoxBlade spokesperson continued. "Our new website represents FoxBlade's commitment to delivering solid solutions from the most competent and capable engineers working in IT today."
FoxBlade Technology's new website can be found at http://www.foxbladetech.com. In addition to current content, FoxBlade is looking forward to the site enjoying exciting growth as the company continues to expand and evolve its presence as a leading provider of innovative IT solutions for companies spanning the spectrum of industries large and small.
ABOUT FOXBLADE TECHNOLOGY
Fox Blade Technology is an independent national IT Solutions provider of enterprise products and solutions. With a vast inventory of servers, storage and network equipment from top manufactures such as HP, Cisco, IBM, NetApp and EMC, as well as engineers possessing some of the highest and most acclaimed certifications to be found in the industry, Fox Blade Technology has the products and solutions that clients need, when they are needed most. FoxBlade Technology is eager to provide its customers a complete array of services, from simple upgrades to full infrastructure design and deployment.