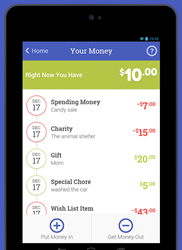 Young people today are hungry for knowledge. Our hope is that Yuby helps to instill a sense of financial responsibility and understanding at a very young age
San Francisco, CA (PRWEB) April 17, 2014
Union Bank, N.A., today announced its Yuby™ children's app, a convenient, interactive financial education tool that uses "virtual" money to help teach children about responsible spending, saving, budgeting and charitable giving. Union Bank teamed up with emerging technology software company Mutual Mobile to develop Yuby, which is available for free download on Apple® and Android™ smartphones and tablets through the Apple App Store and Google Play™.
"Union Bank has a 150-year heritage of responsible banking, and we remain committed to supporting financial education. We're always exploring new ways to enhance the learning process, especially for children," said Union Bank Senior Executive Vice President Pierre P. Habis, head of Community and Private Banking. "Yuby is a natural extension of our ongoing efforts, and we recognize that teaching young people how to become responsible spenders and savvy savers empowers them."
Yuby has three core features:

A Chore List to track ways to earn money, such as "cleaning my room," or "feeding the dog";
An Activity Log to track money earned and spent with details of each activity; and
A Wish List to compare the cost of items users would like to buy and to track savings progress.
Yuby provides engaging, age-appropriate activities and tools for children and is a way for adults to participate in the learning process by starting conversations about money with kids. Yuby actions, such as setting an allowance, making deposits and spending money, also require parental approval using a PIN1.
"Young people today are hungry for knowledge. Our hope is that Yuby helps to instill a sense of financial responsibility and understanding at a very young age," added Habis. "We've found that the sooner the better to start teaching the financial cycle of how to earn money, spend responsibly, save consistently and even give back through donating – all important elements to building strong communities – and we are excited to partner with like-minded Mutual Mobile to bring the Yuby digital experience to life with global reach."
1Yuby is a free, virtual app intended for educational purposes only. No financial transactions actually occur, and Union Bank does not collect any personal information.

Union Bank Launches Yuby App
Page 2
"There are many financial literacy apps on the market, some that target young adults and parents, and some that make a game of learning about money, but most don't take the child into consideration," said Tarun Nimmagadda, CEO, Mutual Mobile. "We spent countless hours on research and observation before building Yuby so that we could appreciate the unique learning behaviors of children -- the result is an app that engages directly with kids, in a way they can easily understand, to allow them to learn the basics of money management."
Yuby complements other ongoing Union Bank financial education activities and partnerships, including Boys & Girls Clubs, Operation HOPE, Junior Achievement, the Union Bank Homework Center at the San Diego Central Library, EverFi, etc. Throughout the year, executives and employee volunteers will also utilize Yuby to help teach youth in local communities.
About UnionBanCal Corporation & Union Bank, N.A.
Headquartered in San Francisco, UnionBanCal Corporation is a financial holding company with assets of $105.9 billion at December 31, 2013. Its primary subsidiary, Union Bank, N.A., provides an array of financial services to individuals, small businesses, middle-market companies, and major corporations. The bank operated 420 branches in California, Washington, Oregon, Texas, Illinois, New York and Georgia, as well as 2 international offices, on December 31, 2013. UnionBanCal Corporation is a wholly-owned subsidiary of The Bank of Tokyo-Mitsubishi UFJ, Ltd., which is a subsidiary of Mitsubishi UFJ Financial Group, Inc. Union Bank is a proud member of the Mitsubishi UFJ Financial Group, one of the world's largest financial organizations. In July 2013, American Banker Magazine and the Reputation Institute ranked Union Bank #1 for reputation among its customers. Visit http://www.unionbank.com for more information.
About Mutual Mobile
Mutual Mobile creates rich user experiences that reinvent how businesses engage the world through mobile. Combining deep design, development and domain expertise, our custom solutions help clients connect people, processes and data, from the back office to the point of sale and everywhere in between. For more information, visit http://www.mutualmobile.com.
Android and Google Play are trademarks of Google Inc.
Apple and App Store are registered trademarks of Apple Inc.
# # #
©2014 Union Bank, N.A. All Rights Reserved. Member FDIC.