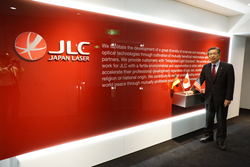 It is rare to discover a company where employees so clearly share the current foundation of vision, management philosophy and corporate culture as well as a common vision of how the company should evolve in the future.
Tokyo, Japan (PRWEB) April 23, 2014
JLC's home office in the Waseda area of Tokyo was always a haven of learning, discussion and growth for employees, clients and guests. The third floor space hosted in-house English boot camps to push TOEIC scores above 500, tours for VIP partners from Germany, France, the US, etc., or web conferences with teams in the Osaka or Nagoya offices. A truly multi-purpose show/conference/meeting/learning space, the ad-hoc feel fit well with JLC's energetic, employee-focused spirit.
Like the charismatic Kondo who himself assumed JLC's helm in 1994 and navigated the firm from its lowest point ever back to black in just two years' time, "Our Belief" projects off the homepage and company brochure to declare:
1. As employees grow, the company grows.
2. Employee satisfaction comes first before that of our customers.
3. Unless the employees are satisfied with the company and products or services they provide, they cannot satisfy their customers.
4. Unless employees appreciate the company's compensation and opportunities provided, they cannot share the pleasure with customers."
Alive and well under the deft lead of Kondo (warmly referred to "Nobi" by his team and colleagues), these beliefs become action in the rigorous training curriculum, strategy sharing and transparent communication proving so effective over the years and with just 60 employees, the company turnover topped 31 million USD in fiscal 2013.
Success brings Much Attention for JLC
Ever since garnering the Grand Prix accolade for SMEs in Japan's renowned "Companies to Value Most in Japan" in 2011, Kondo finds few moments to contemplate JLC at the forefront of Japan's corporate evolution. A look back will show Kondo's early insight for hiring people often overlooked by mainstream corporate Japan. By opening JLC opportunities to women, middle-aged employees from recently "restructured" organizations, those with physical limitations and the International work force pool, Kondo's drive for diversity in the workplace garners much attention from a country trying to buck the tendency to avoid the drastic transformation required to succeed in the ever-evolving and inclusive global business world. Attentiveness and execution of policies to promote and encourage diversity in the workplace placed JLC among the 43 companies recognized in the Ministry of Economy, Trade and Industry's first-ever Diversity Management Selection 100 in 2013.
JLC's business exemplifies the precision and organization found so often among SMEs in Japan. Importing and selling the world's most advanced optical technologies and products from overseas suppliers to Japan's scientific and industrial markets, the stock and delivery space at JLC is a testament to careful documentation, recording and organizing expertise.
Making Sure Employees Feel Noticed and Valued
Demanding best practice in all areas, JLC has employees take regular and rigorous training and coaching courses where each participant establishes clear personal goals and vision for the firm and themselves. These goals are then carefully framed and put on display.
"We display the documents here in the gallery not only for the person themselves to remember and stay focused on achieving their goal, but also so other employees, managers, partners and guests can notice these and provide them encouragement and a sense of accountability. We try to keep effort and goals transparent and create an environment of motivation and positive energy," states Kondo.
Over the past years, JLC's third floor was the venue for change and energy. Highly responsive to various use requirements with simple furniture, ad-hoc storage space and high full/empty fluctuation based on schedules and guests, the space begged a more proactive design to invite efficient results, motivation and peace of mind.
Office Design Specialists Step in to Express the JLC Spirit in Shape and Form.
Midas Company Limited and its Consulting arm DOUMA stepped up to the challenge and formulated a vibrant learning/gathering/shelter "hub".
DOUMA Consulting CEO, Kiyohiko Ozawa, prepared for the Midas design phase with careful interviews and data analysis about employees' motivation level and their understanding of the firms' goals.
"It is rare to discover a company where employees so clearly share the current foundation of vision, management philosophy and corporate culture as well as a common vision of how the company should evolve in the future. Utterly unique over my consulting career, this is truly a valuable achievement. Clearly evident in the profiling results, all employees share the understanding of where they are now and where they are headed. We at DOUMA and Midas felt honored to have the opportunity to express this wholly intangible yet superior asset of intellect and unity of purpose, into a tangible and inspiring gathering space," Ozawa reflects.
Kondo also took the possible need for shelter very seriously when interacting and molding concepts with Midas.
"After the earthquake in 2011, many of our employees were unable to make it home since the trains stopped running for several hours. I always wanted to create a gathering place here that would also function as temporary shelter for my team in time of need" he explains.
With employees at the center and a new gathering place for all related parties, Japan Laser Corporation sets its sight ahead for consistent growth and development.
About Japan Laser Corporation
Established in 1968 and located near Waseda University in the Shinjuku Ward of Tokyo, JLC employs 60 and has a yearly turnover of 32 million-plus USD (as of December 2013). Recipient of multiple awards including the Management Grand Prix for Shinjuku Ward's Most Valued Company (2012), JLC is also the first company in Japan to open company ownership to all employees after successfully executing an MEBO (Management Employees Buy-Out) in 2007.
Contact Information:
Japan Laser Corporation
2-14-1, Nishi-Waseda, Shinjuku-ku, Tokyo,
169-0051 Japan
Phone +81-3-5285-0861, FAX +81-3-5285-0860