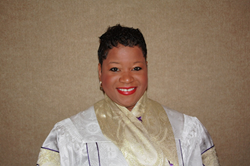 Pastor Teka invites all to Visit & "Love Where You Worship"
Irvine, CA (PRWEB) May 11, 2014
Pastor Teka L. Barber launches new Christian church to serve the Word of God with Bible-based preaching/teaching/mission and outreach.
Pastor Teka is a recently transitioned as ordained elder from the African Methodist Episcopal Church, a worldwide denomination, with its most blessed anointing and prayers. Pastor Teka has faithfully served the AMEC since 2003. Light of the World Wisdom Church desires diversity in worship with a vision that includes all races of people in its leadership, and is dedicated to fulfilling the mission of God and to the community of Christian believers with a focus on stewardship and outreach programs to benefit chronically under-served sectors of our population through our partnering Community Development Arm, LOTWWM-CDC.
We strive…
To enhance lives by ministering to the spiritual and community needs of all people by teaching the love of God from the Gospel of Jesus Christ and empowering people to understand liberation that comes from the indwelling and divine power of the Holy Spirit.
To provide formal educational and vocational instruction to individuals by encouraging the heart through spiritual enrichment and formation, and inspiring individuals to make healthy choices for a healthier lifestyle.
To provide spiritual formation: this aspect takes a comprehensive approach in personal development as the person becomes goal-driven, understands conflict resolution, and is spiritually grounded. This is in all attempts, means, instruction, and disciplines intended towards deepening of faith and furtherance of spiritual growth. It includes educational endeavors as well as the more intimate and in-depth process of spiritual direction.
To educate members of the community in the home buying process.
Before her call to the ministry, Pastor Teka served as a licensed real estate broker in the state of California, managing billions in full-service Century 21 home sales in addition to residential and commercial mortgage loans, as well as home improvement projects. Pastor Teka facilitated the purchase of land and negotiated with Capital Funds Investors who financed new home construction projects in Apple Valley, CA for sale to first-time home buyers within the community. She currently specializes in Jumbo Non Agency, Conventional Agency and FHA loans for lower-income borrowers and HARP loans for owners of distressed properties. Pastor Teka also works as an Underwriter Expert in Costa Mesa, CA, and an alumni fellow of the USC Center for Religion and Civic Engagement.