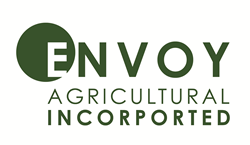 "This is a genuine milestone for the company," said Jerry Hetfield, Interim CEO.
UNIVERSITY, MS (PRWEB) May 13, 2014
Biopharmaceutical Company Envoy Agricultural Incorporated, specializing in medical marijuana and industrial hemp announced today they will begin their IPO process on Thursday, May 15, 2014 utilizing the services of the investment banking firm of Adelstein, Brenner & Nussbaum. ABN has a long and successful track record handling offerings and after market investment banking needs of companies at Envoy's stage of growth.
"This is a genuine milestone for the company," said Jerry Hetfield, Interim CEO. He added, "By becoming a publicly traded company in this manner, we significantly increase the pace of our business plan. In addition, it allows us to acquire the capitol we need for the execution of our plan on an extremely cost effective basis, quickly – thereby enabling us to close on a number of proposals currently in the works." He went on to say; "Our investors can feel secure, if not excited with an investment banking firm of the stature of Adelstein, Brenner & Nussbaum handling our investment banking needs. Their participation significantly enhances our opportunity for success."
Envoy Agricultural Incorporated's state-of-the-art technological facility sits inside the University of Mississippi's Innovation Hub; built by pharma industry leader Pfizer Pharmaceutical. Their 'Outdoor Growing Facility' is the only legal marijuana farm and production facility in the United States to support USDA Ag Research.
This press release may contain certain forward-looking statements and information, as defined within the meaning of Section 27A of the Securities Act of 1933 and Section 21E of the Securities Exchange Act of 1934, and is subject to the Safe Harbor created by those sections. This material contains statements about expected future events and/or financial results that are forward-looking in nature and subject to risks and uncertainties. Such forward-looking statements by definition involve risks, uncertainties and other factors, which may cause the actual results, performance or achievements of Envoy Agricultural Incorporated to be materially different from the statements made herein.
LEGAL DISCLOSURE
Envoy Agricultural Incorporated does not sell or distribute any products that are in violation of the United States Controlled Substances Act (US.CSA). The company does grow, sell and distribute hemp-based products and are involved with the federally legal distribution of medical marijuana-based products within certain international markets. Cannabidiol is a natural constituent of hemp oil.