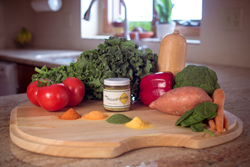 (PRWEB) May 14, 2014
Whether we're too busy to cook, our produce spoils before we can eat it or kids sneak their veggies to the dog, getting enough vegetables in our diet can be a challenge .VeggieBump comes to the rescue - it is like "Veggies On Demand"
VeggieBump will be available on Kickstarter.com for limited time, VeggieBump backers will be rewarded with different varieties of VeggieBump and other cool stuff as rewards. More information on VeggieBump's Kickstarter campaign is available at http://www.kickstarter.veggiebump.com.
Also first 100 backers will receive an extra cotton T-shirt/tote bag along with their reward.
About VeggieBump
VeggieBump comes in three different varieties, Classsic (picky eater approved), for spice lovers - Mildly Spicy Jalapeno and Extra Spicy Habanero
VeggieBump is manufactured from the highest-quality, organic vegetables sourced from U.S farmers and goes through a quick freeze drying process to retain most of the nutrients. Strongly committed to eco-friendly practices and implements green packaging methods.
VeggieBump can be added to any food, from pizza to soup. A great way to add an extra serving of vegetables to a picky eater's diet, VeggieBump is also great in dips, scrambled eggs, pastas, and more.
Contact VeggieBump
E-mail: vijay(at)veggiebump(dot)com and paul(at)veggiebump(dot)com
Kickstarter: http://www.kickstarter.veggiebump.com
Website: http://www.veggiebump.com