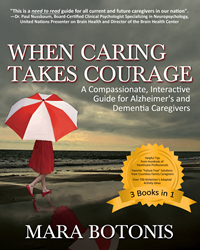 "This is a NEED TO READ guide for ALL current and future caregivers in our nation" -Paul Nussbaum, Ph.D., ABPP., Co-Founder Fit Brains APP (over 7 million users worldwide), United Nations Presenter on Brain Health and Director of the Brain Health Center
Fort Myers, FL (PRWEB) May 20, 2014
When Caring Takes Courage serves as a constant companion on what can feel like a very lonely journey. The newly released book, published by Outskirts Press, is a written reminder that, sadly, millions of other families caregivers have traveled this path before.
According the Alzheimer's Association's 2014 facts and figures report, Alzheimer's disease is currently the nation's third leading cause of death. Currently, an estimated 5.2 million Americans have Alzheimer's disease and are being cared for by 15.5 million family and other unpaid caregivers. Without a cure, by 2025, these numbers will increase by a staggering 40%.
When Caring Takes Courage, by Mara Botonis, is unique in that it combines helpful tips from a national pool of hundreds of healthcare professionals, along with favorite "failure-free" solutions from scores of family caregivers. This book culls the most effective caregiving strategies widely utilized in dementia care today, arranging them in an easily accessible and understandable way.
This highly interactive guide lets readers modify the menu of tips to best suit their unique needs when it comes to everyday challenges such as bathing, toileting, managing medications and dealing with difficult behaviors. When Caring Takes Courage also eases the emotional pain of Alzheimer's by supporting caregivers in carving out more moments of connection to help protect and preserve the unique relationship and life journey readers and their loved ones were on together before onset of this devastating disease.
Some of the interactive tools and tip sheets readers gain are:
•Is it Alzheimer's? Alzheimer's and Dementia Symptoms Caregiver Worksheet
•Reduce the Risk of Wandering Safety Checklist
•Care Needs Calculator. Affording Alzheimer's Care in Today's Economy
When Caring Takes Courage is available online through Amazon, Barnes and Noble, iTunes and http://www.OutskirtsPress.com/whencaringtakescourage.
ISBN: 978-1-4787-3053-8 Format: 8 x 10 economy color paperback Retail: $29.95
Kindle: $14.99 Nook: $14.99 iPad: $14.99
Genre: HEALTH & FITNESS / Diseases / Alzheimer's & Dementia
About the Author: For nearly three decades, Mara's life's work continues to be supporting families in finding hope and happiness on a day-to-day basis in the face of Alzheimer's disease and dementia. She often cites the influence of her beloved grandfather, Bill, as the inspiration for her commitment to those coping with the impact of Alzheimer's. Botonis continues to be a sought-after speaker and valued partner in caregiving for families affected by Alzheimer's/dementia as she shares her positive and empowering message through her company, Biography Based Care.
For more information about the author or her book, contact her at 888-988-1753 or info(at)biographybasedcare(dot)com, or visit her website: http://www.biographybasedcare.com.