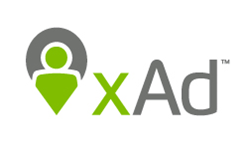 We're thrilled to introduce Footprints™, a technology that takes the value of mobile location to the next level," said Dipanshu 'D' Sharma, CEO at xAd.
New York (PRWEB) May 20, 2014
xAd, a leading global location ad platform, today unveiled Footprints™(beta), the industry's first visualization product that allows users to view mobile visitation behaviors as they happen in real time at over 14 million businesses nationwide. With 9 out of 10 mobile consumers now using their devices on the go, this growing location data set is a powerful new way to understand consumers' real-world behavior in a way that has never before been possible in other media.
As consumers go about their day traveling from one place to another, they engage with their phones regularly. Through this engagement, they often share their device location information with their favorite sites and applications. This data exchange normally occurs in an effort to make their mobile experiences more efficient or relevant to what they may be doing at any given time or place. It is through this anonymized location data that a product like Footprints™ is possible, essentially turning a device's location data into a new kind of digital cookie.
In just one day, xAd's Footprints™ technology analyzes 1.5 billion location-aware ad requests, resulting in over 30 million local business visits. With 94% of actual commerce sales still happening in store, it is essential for marketers to not only understand their consumers' digital behaviors, but their offline behaviors as well. Through Footprints™, marketers can now see this behavior as it is happening. Activity can be viewed by category or specific brand, and as broadly as nationally or as granular as by neighborhood. As the product matures, xAd plans to introduce a series of complimentary products and offerings based on Footprints™ technology in the near future.
"We're thrilled to introduce Footprints™, a technology that takes the value of mobile location to the next level," said Dipanshu 'D' Sharma, CEO at xAd. "Everyone talks about big data and the importance of accurate location. Footprints™ is the only product that shows this in real time, breaking down complex mobile behavior patterns as they happen and turning them into immediately actionable insights."
Footprints™ is currently available in limited beta. To learn more, please visit: http://www.whatsyourfootprint.com.
About xAd
xAd helps brands harness the power of accurate location data to produce measurable results from mobile advertising. Through award-winning location technology that is precise, measurable and scalable, xAd's platform pinpoints target audiences by neighborhood, across the country and around the globe at pivotal moments during the consumers' path-to-purchase. xAd's platform drives results powered by search-enhanced targeting, ultimately yielding unparalleled performance. Founded in 2009, xAd serves more than 1.5 million national and local advertisers, while managing more than 30 billion location-verified ad requests monthly. Connect with xAd at http://www.xad.com, Facebook, Twitter and LinkedIn.