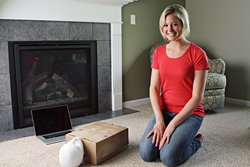 SUMO allows you to get CPR certified from beginning to end from the comfort of your own home.
Grand Rapids, MI (PRWEB) May 30, 2014
For the first time ever, it will be possible to get completely CPR certified from home, including the hands-on demonstration of skills. And no, you won't be asked to do CPR compressions on your computer keyboard.
Up until now, manikins have been expensive, cumbersome, and hard to ship. SUMO is an extremely low-cost, single-use manikin option that was developed to streamline the training experience. This makes it possible to complete the skills session without having to go through the hassle involved with traditional classroom courses and the blended programs offered by other training providers.
Every year in the US, more than 20 million people are trained in CPR to meet job or licensing requirements. Since most professionals need to practice on a manikin to meet these requirements, CPR training is still predominantly done in the classroom. Over the past decade, ProTrainings has certified more than 600,000 healthcare professionals through innovative online and blended learning, and now they are taking it a step further and bringing the complete training right to your doorstep. As Roy Shaw, co-founder of ProTrainings and licensed paramedic puts it, "SUMO allows you to get CPR certified from beginning to end from the comfort of your own home."
Classroom CPR training can be inconvenient for healthcare professionals, who often have to take time off of work to attend classes, sometimes miles from home, resulting in loss of wages and the expense of travel, besides the cost of the certification itself. The SUMO Kit removes the barriers that have kept people from utilizing online learning by making the hands-on demonstration as accessible as the online course itself.
The SUMO kit effectively eliminates the expense and inconvenience of in-person manikin training for CPR certification by utilizing a remote skill evaluation over a webcam with a certified instructor. With the launch of this ground-breaking addition to the online certification, ProTrainings is getting rid of the difficulties attached to traditional classroom learning experiences and bringing CPR certification right to your door.
For more details about SUMO or to get started learning CPR, visit BlendedCPR.com.