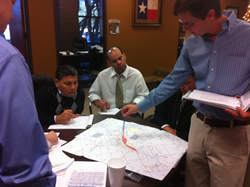 This new technology helps Millennium geologists and geophysicists analyze seismic data with more accuracy and better imaging which increases the chances of finding hydrocarbons when drilling a well
San Antonio, Texas (PRWEB) May 28, 2014
Millennium Exploration Co. partnered with Corpus Christi based Everest Resource Co. started their drilling schedule for 2011 with the Salsa Prospect in San Patricio County, Texas which resulted in a dry hole. In January 2011 Millennium, along with Houston based Gasper Rice Resources, successfully drilled and completed the West Pettus (Walton Heirs #2) Well in Bee County, Texas followed by the successful drilling and completion of the Chips (Welder Heirs #1) Well in San Patricio County, Texas with Everest and finally the Cadena (Alma Garcia #1) Discovery Well in Duval County, Texas with Gasper Rice.
Estimated reserves on the three successful wells are currently being calculated, but appear to be significant. The Cadena (Alma Garcia #1) made a new zone discovery producing from what geologists call "low resistivity pay" meaning that it appears as water (low resistance) on the electronic log, but has been oil rich and a strong producer. The discovery of low resistivity pay in the area has opened up many opportunities since these zones have been bypassed or ignored by other oil companies in the past.
In late February 2011, Millennium upgraded its entire Exploration Department investing heavily in new hardware and the latest in 3-D Seismic processing and evaluation software. "This new technology helps Millennium geologists and geophysicists analyze seismic data with more accuracy and better imaging which increases the chances of finding hydrocarbons when drilling a well" says Mr. Richard Monroy, Millennium's President & CEO. Millennium has already developed its first prospect using these tools and high resolution 3-D data which it purchased to create the Normanna West 3-D prospect in Bee County, Texas which has identified a potential oil reservoir spanning almost 50 acres in structure.
This month, Millennium is scheduled to drill the McKinley #2 Offset Prospect in Colorado County, Texas which will be a 12,000' developmental well and the Englehart #1 Prospect, also in Colorado County, which will test for the high volume Yegua Formation at 6,750'. Millennium is currently funding its Mad Island Unit #1 which will be re-entering an 18,500' wellbore drilled by the El Paso Corp. which encountered mechanical issues due to hurricane Katrina in 2005. Millennium, rather than attempting to repair the well will go into the existing wellbore and drill diagonally to bypass the problem area. Similar wells in the area are producing between 5 to 20 million cubic feet of gas per day and 200 to 500 barrels of oil per day.