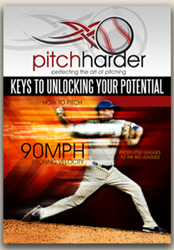 Learn how to throw a slider, pitching mechanics in Pitch Harder's revolutionary program now available online at http://pitchharder.publishpath.com.
Miami, FL (PRWEB) June 11, 2014
Pitch Harder is introducing a new revolutionary approach to training pitchers. This program is comprised of exactly everything baseball players need to take their pitching velocity to the next level. No more wondering if this year will be their year to excel. Pitchharder focuses on exactly what every pitcher wants: to throw harder and do it in the shortest amount of time. Everything Pitchharder does and teaches is based on the latest scientific research and is customized around building the power pitcher.
The first component of the Pitchharder program is their much anticipated book that covers a wide array of topics, giving pitchers a deep insight and scientific understanding of exactly how pitching velocity is created. Many careers have been destroyed because of the traditional doctrines and training that has been handed down.
The second component of the program is the Pitchharder DVD that is comprised of very comprehensible instructions for developing maximum power within a pitcher.
To learn more about the Pitchharder program or to make a purchase and change the life of a pitcher forever, visit http://pitchharder.publishpath.com.