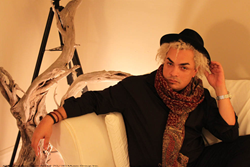 She was only 27 years old and leaves behind a son named Fabian
Paris, France (PRWEB) June 09, 2014
Award Winning songwriter/producer Dutch Franklin sadly announces the death of his youngest sister, Tanesha Melendez. Franklin has been in mourning ever since he received the call with the unfortunate news in Paris, France. Ms. Melendez sadly succumbed to a massive heart attack in Passaic, New Jersey.
Dutch Franklin could not be reached for comment, but a source close to him said, "He's not taking her death all too well. She was only 27 years old and leaves behind a son named Fabian."
A spokesperson for Mr. Franklin also returned a statement that read, "On behalf of our family, I thank one and all, from near and far, for your very heartfelt, kind words on the loss of our sister, Tanesha Melendez. Our only request is for our family's privacy at this moment. Love always, from Dutch Franklin & Co."
Tanesha was Mr. Franklin's youngest half-sister, who was born in Fort Campbell, Kentucky. She frequently moved around due to her dad's army career, but always kept in contact with her brother Dutch via Facebook and telephone calls. One of her last phone calls to Dutch was about how proud she was to have a brother in the arts. Although they didn't see each other as often as they would've liked, she knew he always loved her no matter what.
Dutch Rocky Torres (born 22 June), best known as Dutch Franklin, is an Italian-American, Spanish born artist, songwriter, composer, and executive. He is one of the founders of the 70/30 Music Group Inc. His partner at the record label is Russian model Masha Rechman (http://www.masharechman.com). The "Thief Of Hearts" recording artist has been known to be a reclusive and selective songwriter throughout foreign markets. Now a Miami native, Dutch Franklin has been working on several recording projects to be released in the near future.