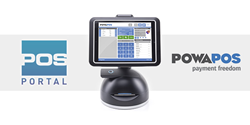 POS Portal knows how to enable success; they have the partner network, the resources, the technology, and the infrastructure necessary to execute anyone's next-gen deployment strategy.
Sacramento, CA (PRWEB) June 10, 2014
POS Portal, a U.S. based leading provider of hardware and software point of sale solutions, has partnered with Powa Technologies to bring the PowaPOS Mobile and Tablet Point of Sale platform to the merchants served by the payments and point of sale software industries.
Recent forecasts from ABI research suggest that by 2019, Mobile Point of Sale (mPOS) store management solutions will account for nearly 46% of the point of sale installed base. The migration to mPOS point of sale systems means that today's payments resellers and software providers are faced with the challenge of finding a fast and scalable hardware provisioning solution that will support their mPOS go-to-market strategies. The innovative fulfillment and managed support services of POS Portal provide payments sellers and point of sale software companies an immediate turnkey solution they can take directly to merchants.
Earlier this year, Powa Technologies unveiled PowaPOS, a platform designed to integrate industry leading standards into one simplified Point of Sale (POS) stand. PowaPOS seamlessly combines EMV readiness, printer, barcode scanner, tablet mount and USB expansion ports into one compact and elegant device. Additionally, PowaPOS features PowaPIN, the worlds smallest EMV chip-and-pin acceptance device designed for next generation payment applications.
POS Portal provides merchant ready mPOS solutions to the merchant customers of Software Developers, Independent Sales Organizations, Processors and Agents. With POS Portal, Referral Partners and Resellers can be up and running with a market ready mPOS hardware offer in two weeks. POS Portal's diverse mPOS offerings include Partner and merchant-facing online ordering interfaces, purchase and lease options, and managed replacement service options. POS Portal's one-stop hardware offerings include Apple Authorized iPad placement, routers and connectors, barcode scanners, receipt and kitchen printers, cash drawers, and now PowaPOS hardware.
"mPOS and tablet based payment systems represent a significant growth opportunity for ISOs and ISVs. Putting together a merchant hardware offer must be done quickly, but also in a scalable way. The market is expanding rapidly." said PowaPOS CEO Jeff Dumbrell. "POS Portal knows how to enable success; they have the partner network, the resources, the technology, and the infrastructure necessary to execute anyone's next-gen deployment strategy."
The correct combination of hardware, software and broad payment type acceptance is critical for both merchant and POS Portal partner success. Getting these capabilities live with merchants begins with hardware. The partnership between Powa Technologies and POS Portal enables merchants and POS Portal partners to rapidly roll out mPOS technology.
About POS Portal (http://www.posportal.com)
Since 2000, POS Portal has achieved a leadership position in the point of sale industry by providing unparalleled levels of customer service and technology innovation to its partners. In servicing its channel partners, POS Portal's bi-coastal distribution facilities ship over 10,000 POS devices every month to merchants nationwide. POS Portal is committed to continuing the relentless pursuit of our corporate mission: To provide exceptional customer service and point of sale innovation to merchants through channel partnerships. Interested Partners may contact Shobhit Kumar, skumar@posportal.com.
Contact:
Shobhit Kumar
skumar(at)posportal(dot)com
POS Portal, Inc.
Phone: 866.940.4POS
About Powa Technologies (http://www.powapos.com)
Powa is an international commerce specialist that creates technologies to seamlessly integrate the physical and digital worlds and enable commerce online, offline and everywhere. The Powa suite of commerce solutions caters to a world where consumers hold the future in their hands – be it a laptop, tablet or mobile device. With PowaTag, PowaPOS and PowaWeb, Powa removes the final barriers to instant global transactions. The company was founded by award-winning entrepreneur Dan Wagner. Previously, Dan established Venda – the world's largest 'on demand' ecommerce provider - and Locayta – sophisticated search and profiling technology. Both are now global leaders in their fields. With more than 200 employees, Powa Technologies is based in London, UK, and is extending its global reach with offices in Atlanta, New York, San Diego, Miami, Toronto, Singapore and Beijing.
Editorial Contact:
Candace McCaffery
PowaPOS
Tel: 678.640.7822
Candace(at)ckmcom(dot)com