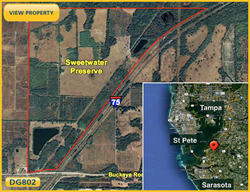 Ocala, FL (PRWEB) June 12, 2014
The economic growth in southeast Hillsborough county is booming. One indicator of that growth is the new 1-million square foot Amazon distribution center in Ruskin, FL, a project that is planned to bring 1,000 permanent jobs to the area. "…It's a mega-storm of growth that's hitting our county with feeder bands that will create economic growth all over this area," said Ruskin Commissioner Sandy Murman.*
To further enhance the excitement of the region, Governor Rick Scott recently unveiled a $1 billion plan** to invest in Florida ports over his eight-year term in office. The money will support dredging and infrastructure projects, promote the strength of the freight industry as a partner to get goods to market quickly, and ensure transportation infrastructures allowing for more development of major distribution facilities like the Amazon center.
Nearby Manatee county is being planned in conjunction with the Planned Development Encouragement Zone (PDEZ) designed to encourage port-compatible development including manufacturing, warehouses, distribution centers and other industrial uses to serve the growing Port Manatee area.
In the heart of this activity, a mere 10± miles from Ruskin's Amazon project and 5± miles from Port Manatee, a bankruptcy auction will be held by Tranzon Driggers on June 20 for a large tract of prime development land known as the Sweetwater Preserve property. The Sweetwater Preserve is located in the Northwest quadrant of I-75 and Buckeye Road in Palmetto, Florida. The property consists of 824± acres with 2± miles of frontage on I-75 and has an approved preliminary site plan for 1,719± residential units and 150,000± square feet of commercial space.
A Property Information Package is available online at tranzon.com/DG802. General information and frequently asked questions about the auction process are available on the website as well, or by contacting David Bradshaw at 877-374-4437.
Headquartered in Ocala, FL, Tranzon Driggers is a licensed real estate broker and auctioneer in multiple states, providing real estate auction marketing services for lenders, receivers, corporations, trustees, and individuals throughout the United States and is a member company of the national network of Tranzon companies.
###
Contact: David Bradshaw, President, Tranzon Driggers, 877-374-4437
*Tampa Bay Times, Bill Varian and Susan Thurston, Times Staff Writers, Oct. 10, 2013 http://www.tampabaytimes.com/news/business/retail/amazon-bringing-1000-jobs-new-distribution-center-to-hillsborough/2146471
**Capital Soup-Florida News Straight from the Source, May 22, 2014, http://capitalsoup.com/2014/05/22/governor-scott-announces-1-billion-for-port-and-trade-infrastructure-2/