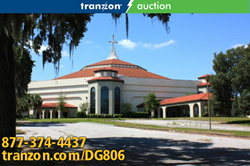 Ocala, FL (PRWEB) June 19, 2014
The Without Walls International Church bankruptcy provides an opportunity for blessing for the church and commercial real estate buyers. The bankruptcy will jettison debt for the church, allowing them to focus on their core mission of serving their members and the community. Additionally, the bankruptcy auction, conducted by Tranzon Driggers, a locally-owned member of a national auction company, will provide a blessing to buyers seeking to purchase two of the church's prime commercial properties in Lakeland and Tampa.
The north Lakeland, Florida church property, known for having the largest sanctuary in Polk County, was also used as a concert venue. It sits on 63± acres with frontage on 483-acre Lake Gibson. Within 1.2 miles of I-4, it is in close proximity to Tampa and Orlando, offering access to those two major Florida populations.
The property includes 3 parcels of land: the main church building, constructed in 1985± on 26.17± acres; the original structures dating back to 1927± are on a 20.26± acre lakefront parcel and an additional 17.06 acres located across the street which was formerly used for sports fields.
Tony Delgado, Lakeland's deputy city manager, quoted in the Lakeland Ledger said, "Whether you went to church there or saw shows there, it has a great history…in its heyday, it was a heck of a facility."*
The Tampa property is situated near the Tampa International Airport and International Plaza & Bay Street and adjacent to MetWest International, a 32-acre mixed-use development. Also within close proximity is Raymond James Stadium, Steinbrenner Field, and the intersection of I-275 and N. Dale Mabry Highway. The property is also within the Westshore Areawide Development of Regional Impact and future land use is zoned RMU-100 Regional Mixed Use.
Sealed bids for both properties are due by July 7, 2014 at 3 pm ET to the office of Stichter, Riedel, Blain & Prosser, P.A. The Best and Final Auction will be held the next day, July 8 at 10 am ET. Complete terms and conditions and the Property Information Package is available online at tranzon.com/DG805 (Tampa) or tranzon.com/DG806 (Lakeland).
Headquartered in Ocala, FL, Tranzon Driggers is a licensed real estate broker and auctioneer in multiple states, providing real estate auction marketing services for lenders, receivers, corporations, trustees, and individuals throughout the United States and is a member company of the national network of Tranzon companies.
Contact: David Bradshaw, President, Tranzon Driggers, 877-374-4437
*The Lakeland Ledger, Gary White, Staff Writer, May 2013 http://www.theledger.com/article/20130531/NEWS/130539912?p=1&tc=pg
###