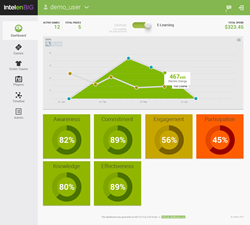 New York, NY (PRWEB) June 19, 2014
Intelen Inc, the leading energy efficiency analytics and customer engagement company, will be a Platinum Sponsor at the 2014 Grid Edge Energy conference in San Diego CA, June 24-25.
Intelen will exhibit two key cloud products in San Diego:

Intelen DiG for Utilities that employs behavioral analysis and other powerful algorithms to disaggregate and process data from a households' consumption, clients' consumption behavior, utility demand in different weather; it then supplies information to help households identify energy "black holes" and adopt energy saving behaviors, while aiding utilities manage peak demand efficiently.
Intelen BiG, a new turnkey solution that effectively engages employees, customers, commercial associates and students in energy efficiency, social energy saving and corporate social responsibility initiatives.
Intelen's CEO and co-founder, Dr. Vassilis Nikolopoulos will be participating in the Software and Data Analytics round table on Tuesday 24th, discussing the new trends in energy analytics and will also be presenting a case study on the use of the Intelen DiG solution by a large Utility in Europe, on Wednesday 25th. At the conference Intelen will be announcing new deals and partnerships as well as product updates that will be deployed in the US market from September 2014; Intelen has already published the 1st Case Study on GTM Research, regarding BiG application and results (http://forms.greentechmedia.com/af2?LinkID=CH00095679eR00000270AD&source=website)
About Intelen
Based in New York, Intelen Inc (http://www.intelen.com) aims to provide businesses with powerful tools that transform real-time energy data into information that makes sense and drive energy consumption reduction and efficiency. Its solutions help businesses rethink their energy management, engage their community in greener behaviors and build long-lasting relationships with their customers.
Born out of doctorate research in applied mathematics, Intelen Inc. was officially founded in 2011 as a dynamic startup set to revolutionize the energy analytics industry. In the three years since its launch using a series of smart algorithms that analyse, process, correlate and disaggregate energy data, combining it with historical, weather, occupancy, usage and behavioural records in order to identify, accurately and precisely, where and how energy is consumed, Intelen has developed three integrated energy efficiency cloud solutions and an award-winning mobile app.