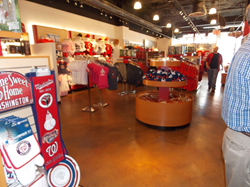 Washington, DC (PRWEB) July 10, 2014
SUNDEK decorative concrete products were used to completely transform a 4000 square foot retail flooring space at Nationals Park in Washington DC. The unique look was created by SUNDEK of Washington using SunCanvas, a paper-thin concrete overlay that produces a smooth decorative concrete surface. SunCanvas can be used on a variety of properly prepared surfaces, including concrete, other overlays, wood, metal, plastic, terrazzo and ceramic tile.
The retail flooring space was then given a pop of color with SunAcid, SUNDEK's reactive stain that creates a translucent, mottled appearance via a chemical reaction with the minerals and salts contained within the concretes surface.
SUNDEK decorative concrete products can be used in a wide variety of applications, each creating a unique, attractive and durable surface that beautifully complements any existing style or décor. Contact SUNDEK of Washington for free estimates regarding residential or commercial decorative concrete in Washington DC and the surrounding Virginia and Maryland areas.