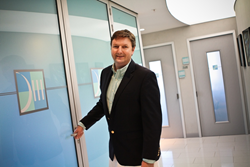 Simply The Best -- ★★★★★. Dr. Pechak and his staff are without comparison.
Palo Alto, CA (PRWEB) July 17, 2014
Dr. Jochen Pechak, a Board Certified Periodontist and founder of the Perio & Implant Centers of Palo Alto and Monterey Bay, California, is celebrating his 50th successful patient for the Chao Pinhole Surgical Technique ®, also known as 'PST'. This minimally invasive procedure for recessed gums gives patients a treatment option with no scalpels or stitches that result in no downtime, and often no pain.
The patient Dr Pechak performed his 50th pinhole surgery on successfully enjoyed an easy, effortless fix to her gum recession. "If this had been available I would have done this years ago," the patient 'JB' stated. "I am glad I did my own research and found Dr. Pechak and this amazing, easy option. My dentist recommended another Periodontist, but he would only perform the traditional procedure, which I was told by a friend who did the 'traditional method', was very painful."
The patient said she was grateful to have found Dr. Pechak through KSBW Action 8 News "Health Watch," which featured Dr. Pechak in a story on the Pinhole Surgical Technique in February. During the segment, Dr. Pechak discussed this new option in hopes to inform the public, many of whom may not wish to engage in traditional gum surgery for gum disease and recession.
Watch the segment at: http://www.youtube.com/watch?v=M0RmxuJHcBA
The traditional treatment for gum recession, the only option other than the Chao Pinhole Surgical Technique®, involves blades. Incisions are done with a scalpel at the site of the gum recession, as well as on the roof of the mouth, or palate, as a donor site. The donor tissue is then grafted onto the recessed gum line. This procedure involves scalpels, stitches, a minimum of two weeks recovery time, and oftentimes considerable pain. Traditional gum surgery for pocket reduction can also result in very conspicuous gum recession, as some of the healthy connective tissue is inevitably removed along with the infected gum tissue which can lower the patients gum line anywhere between 2 mm to 15 mm. In addition to sensitivity to hot and cold temperatures, gum recession can also result in a gummy smile, long teeth, or a prematurely aged look.
Today, with the minimally invasive Chao Pinhole Surgical Technique®, or 'PST', Dr. Pechak uses a needle to make a small pinhole and then uses specially designed tools that allow him to work underneath gum tissue, rather than cutting it. He is then able to gradually and skillfully lower the gum tissue without making an incision. Unlike the traditional procedure, this revolutionary technique enables dentists to treat multiple teeth in one visit and requires only a few minutes to complete each tooth. Dr. Pechak is the only local Periodontist to enhance this procedure using PRGF, a technique that uses a patient's own plasma to enhance healing, often with no pain.
"After 50 successful procedures and nearly a year of happy patients, we celebrate this day by sharing with the world that this is a successful, lasting method for treating gum recession. We will always strive to provide more excellent treatment options to our patients," Dr. Pechak said to his team after they completed the milestone procedure.
Dr. Pechak specializes in providing the latest in minimally invasive treatment options such as Laser L.A.N.A.P. ® – wherein diseased gum tissue is removed using a laser and prepared to allow the healthy tissue to prevail – and PRGF – a treatment using a patient's own plasma cells to enhance and accelerate healing.
About Dr. Pechak and the Perio & Implant Centers:
Dr. Pechak began practicing Periodontics and Dental Implantology right next to the Stanford Medical Center in Palo Alto in early 2001, after initially performing restorative dentistry for several years in Munich, Germany. Dr. Pechak is a Diplomate of the American Board of Periodontology and member of the American Academy of Periodontology, California Society of Periodontists, Academy of Osseointegration, International Congress of Oral Implantologists, American Dental Association, California Dental Association, Monterey Bay Dental Society, Mid‑Peninsula Dental Society and Seattle Study Club. He holds dental licenses in Germany, Michigan, New Hampshire and California. Dr. Pechak opened the Perio & Implant Center of Monterey Bay in January of 2007, while continuing to practice in Palo Alto, next to Stanford Medical Center. For more information, please visit the website at http://www.drpechak.com.