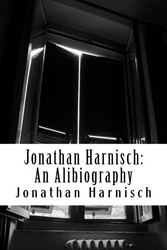 Harnisch has chosen the perfect way to express what a mentally ill mind actually FEELS like.
Corrales, NM (PRWEB) July 22, 2014
"Harnisch has chosen the perfect way to express what a mentally ill mind actually FEELS like," enthuses one reviewer on Amazon.com. "What an accomplishment. Harnisch wades into a genre in which disconnected, ugly sexual encounters predominate," the Amazon reviewer explains. "Genius. I loved this book," the reviewer concludes.
If you are an experienced reviewer or an established copywriter, apply for one of the free copies of Jonathan Harnisch: An Alibiography that Harnisch Productions LLC has now made available. Your copy is free on one condition: that you write an unbiased review to be posted on the Amazon page where the novel is currently for sale.
Interested reviewers can find out more about Jonathan Harnisch and the new novel at the author's blog or the dedicated site for Jonathan Harnisch: An Alibiography. Harnisch chose the transgressive style of fiction for his first novel, following the inspiration of Jean Genet's Our Lady of the Flowers. Literati enthused by this method will find a review of Harnisch's novel an enjoyable task. Specialists in the psychiatric conditions of schizophrenia, comorbid schizoaffective disorder, post-traumatic stress disorder, personality disorder NOS (not otherwise specified), and Tourette's syndrome (which is not a mental illness) would also bring the insight of their educational experience to any review.
As a sufferer, Harnisch hopes to illuminate the condition of schizophrenia through this novel, explaining the perceptions of sufferers to the general public. This mission forms part of Jonathan Harnisch's commitment to his work as a mental illness advocate. Any campaigner with a similar aim would be able to bring a depth of empathy to a review of the novel.
The novel extends to 804 pages and was first published in May 2014. Harnisch Productions has pursued a fierce and energetic campaign of promotion since the novel's launch. Jonathan Harnisch: An Alibiography has been publicized throughout the English-speaking world, bringing considerable exposure to any reviewer whose work is posted on the Amazon page for the novel. Amazon.com is also an outlet for the general public to resell their copies of the book, meaning that the exposure gained by association with the novel will last for years. Interested reviewers should email Harnisch Productions to obtain a complimentary copy of the novel.
Jonathan Harnisch is a sufferer of comorbid schizoaffective spectrum condition, and this is the inspiration for the plot of his novel. Harnisch has exploited the insights he has acquired through his condition to become an accomplished mental health advocate, film and TV producer, musician, and fine artist.