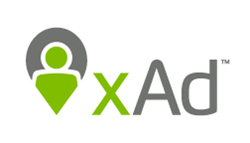 New York (PRWEB) July 24, 2014
xAd, a leading global location ad platform, today announced that it has appointed two industry veterans to top engineering and sales positions in order to further enhance its ad platform, accelerate product innovation and programmatic client growth for the company. With over 20 years of experience building industry-leading technology, George Rekouts has joined xAd to lead engineering. And, with over 20 years of sales and ad tech expertise, Beth Gregg has joined the company as head of both direct and programmatic sales.
In appointing Rekouts as head of engineering, xAd hopes to further advance its award winning global location ad platform to allow marketers to fully leverage the unique-to-mobile opportunity of reaching consumers based on their real-world visitation behaviors. The company believes that these behaviors, combined with other location data sets, not only give them a better way of reaching and engaging intended audiences, but is as valuable, if not more valuable, than digital search in reaching consumers based on their express intent to buy.
According to Dipanshu Sharma, founder and CEO at xAd, "Less than 10 percent of digital searches today convert into an actual sale. This is because most search queries are not strictly commerce driven, but rather conducted in the pursuit of answers or research on a specific topic. Conversely, visitations to a physical store show true intent to buy, as more than eight out of ten consumers walk into a restaurant, onto a car lot or into a retail location with specific intent to make a purchase."
Rekouts will leverage his previous experience developing state-of-the-art search technology and optimization models to create a number of industry-first location products, using the power of real-time and historical real-world visitation behaviors, ensuring xAd remains the industry leader in location technology innovation. Before joining xAd, Rekouts served as head of engineering at Efficient Frontier, one of the most sophisticated search buying platforms for brands, later acquired by Adobe. Prior to Efficient Frontier, he ran engineering for ValueClick.
In her new role as head of sales, Gregg will focus on driving additional direct and programmatic demand for xAd's expanding suite of smart location offerings, as well as growing the sales teams and managing customer relationships in the Central and West regions. The company has seen over 300 percent client growth in the last year and Gregg will be tasked with accelerating this growth through the creation of new location buying opportunities enabled through programmatic partnerships like the PubMatic Mobile Marketplace, announced in May. Prior to xAd, Gregg was SVP Sales & GM North America at DataXu, a leading provider of programmatic marketing solutions. She has also held leadership positions at Time Inc., BusinessWeek, and Electronic Arts.
Gregg and Rekouts join over 140 xAd employees in five countries. In addition to growing its presence in the US, xAd has expanded internationally at a rapid pace—now offering its services in the UK, Canada, Germany and India. By the close of 2014, xAd plans to expand into several other countries, including France and China.
About xAd
xAd helps brands harness the power of accurate location data to produce measurable results from mobile advertising. Through award-winning location technology that is precise, measurable and scalable, xAd's platform pinpoints target audiences by neighborhood, across the country and around the globe at pivotal moments during the consumers' path-to-purchase. xAd's platform drives results powered by search-enhanced targeting, ultimately yielding unparalleled performance. Founded in 2009, xAd serves more than 1.5 million national and local advertisers, while managing more than 40 billion location-verified ad requests monthly. Connect with xAd at http://www.xad.com, Facebook, Twitter and LinkedIn.