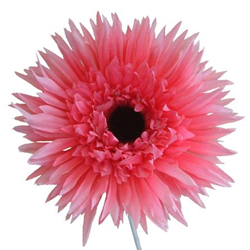 Artificial flowers will add the perfect touch of floral style and require minimal maintenance
(PRWEB UK) 18 August 2014
In recent years, the Chelsea Flower Show has grown in popularity. With some beautiful inspirational flower displays and regular visits from the Royal Family, it is easy to see why this celebration of all things floral has become a much loved annual date in the British calendar.
1. Artificial Flowers
Flowers make a wonderful addition to the décor of a home, but the effort required in maintaining fresh flowers can sometimes be a burden; consequently, many people across the UK are opting to introduce a range of artificial flowers to their homes. Whether you crave the vibrant red of poppies in your lounge or a subtle nod to vintage trends with a selection of artificial herb pots in your kitchen, these flowers will add the perfect touch of floral style and require minimal maintenance. Dunelm offers a wide range of artificial flowers such as these http://www.dunelm-mill.com/shop/decor/home-accessories/artificial-flowers/, ideal for adding that touch of Chelsea Flower glamour to your home.
2. Floral Dinnerware
What better way to add a flutter of floral style to your kitchen or dining room than with your very own set of flowery dinnerware, from vibrant roses to subtle bluebells, the options are endless. The introduction of a floral pattern does not need to dominate mealtime. A flower design will often simply offer a delicate decoration around the rim of the bowl or plate while allowing a complementary background colour to shine through.
3. Flowery Bed Linen
Why not add a hint of summer to your bedroom with some adorable flowery bed linen? The introduction of some floral patterns to your bedding will help to add a light and airy feel to your room whilst simultaneously adding a wonderful splash of colour. However, if a full set of floral bed linen is a step too far, try including a few strategically placed flowery display pillows, the perfect addition to any bedroom, come rain or shine!
4. Floral Curtains
With the nation's new-found love of blossoming blooms comes a higher demand for floral curtains. The introduction of some flower-inspired drapes at your window will help to update the look and feel of your room whilst adding a touch of the floral trend. Flowery curtains are available in a whole host of different colours and styles, ideal for all types of modern or traditional rooms and décors.