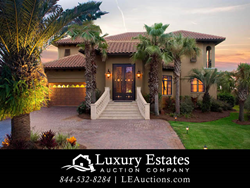 Destin, FL (PRWEB) August 14, 2014
On August 28 at 2 pm, discerning homebuyers have a rare opportunity to bid on a beautiful waterfront home in the desirable Burnt Pine development in the Sandestin community of Destin, FL. Luxury Estates Auction Company, one of America's top auctioneers of carefully selected, high value real estate, is offering a beautiful 7,900 square foot home built in 2006 and filled with amenities that define luxury living. For details visit http://www.luxuryestatesauctioncompany.com/listings/3214-Bay-Estates-Mirimar-Beach-FL.html.
Situated on the Choctawhatchee Bay, the seven bedroom, eight full bathroom waterfront home features an open floor. That plan maximizes flow between rooms, and it well-designed to maximize heart-stopping bay vistas from the master suite, main living space, and bay facing lanai. The gourmet kitchen has a large island, custom cabinets and is fully stocked with cutting edge appliances. Wine collectors will be thrilled with the spacious wine cellar and the built-in wine refrigerator in the dining room.
Features and accents befitting such a stately waterfront home include iron filigree, built in hutch cabinetry, a curved window bank adjoining the grotto and pool, and a ten seat theatre and screening room. To see the property brochure, visit: http://www.luxuryestatesauctioncompany.com/downloads/3214BayEstates/3214bay-web.pdf.
"This is a magnificent waterfront home in prestigious 'Burnt Pine' in the community of Sandestin, and what a great opportunity for Luxury Estates Auction Company to be chosen to sell such a magnificent home. We are presenting buyers with an extraordinary buying opportunity," stated Chris Camp, Luxury Estates Auction Company founder and owner. "We have a unique marketing program that attracts buyers, which creates the urgency to a specific time and date that the home will be sold. The live auction process creates fair market value."
"To help buyers make an informed purchase, we have every piece of information for them. Our team of real estate auction professionals is fully licensed to answer any question on the property, and to assist buyers or their agents, we also allow ample time for previews prior to the auction. Buyers should come prepared to bid on this exquisite waterfront home in Destin, Florida."
About Luxury Estates Auction Company
Luxury Estates Auction Company (http://luxuryestatesauctioncompany.com/) is one of the leading auction firms of some of the most exquisite residential properties in the nation. Their extensive marketing program leverages direct mail, professional photography, traditional and social media and flawless open houses to put properties on buyers' radar. Their real estate auctions attract serious bidders and drive up the final sales price. Chris Camp, co-founder of Luxury Estate Auction Company, is a graduate of the World Wide College of Auctioneering. Chris and his team were selected by NAA in 2009 for Auction of the Year, which was a luxury condo close out that brought $10 million+ auction day.
Contact – Chris Camp
Chris(at)leauctions(dot)com
(813) 803-5630