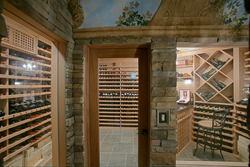 Being a wine collector himself, Jay truly understands the need to provide optimal storage conditions for the long term cellaring of wine.
(PRWEB) September 16, 2014
Washington Valley Cellars and company owner Jay Rosen are featured in the September 30th issue of Wine Spectator magazine. This feature is part of the private cellars section of the magazine, and a great honor for the company as a whole.
Washington Valley Cellars has been designing and constructing custom wine cellars and providing wine storage solutions for their clients for over 15 years. The company has constructed over 500 wine cellars across the country, especially in New York, New Jersey, and Connecticut. The company began out of Rosen's interest in wine and years of experience in construction management.
"My passion for wine was sparked decades ago and I quickly progressed from a wine enthusiast to an ardent collector," Rosen states on his company's website. "As my collection grew, so did my realization that a wine cellar was not a luxury but indeed a necessity for the proper storage, display and ultimate celebration of wine. So I set out to build my own wine cellar and embarked on a business to design and create superior custom wine cellars that don't just store wine, they pamper it."
The Washington Valley Cellars team collectively has 75 years of experience in the building industry, across all trades including plumbing, electrical, masonry, and fine carpentry, as well as a variety of other personalization options. This allows for each cellar to be unique to the clients' desires, aesthetics, and storage requirements.
"We look forward to meeting with you and discussing your wine cellar needs," Rosen adds. "No two cellars we build are alike. We discuss your needs, desires, and collection, and design your cellar around this information."
About Washington Valley Cellars:
Established in 1992, Washington Valley Cellars is a building company specializing in the design and construction of custom residential wine cellars and wine storage areas. Just as no two wine collections are the same, no two Washington Valley Cellars are alike. Each is a unique design, built with the finest materials and expert craftsmanship to reflect the storage needs and aesthetic tastes of the collector. Our approach is personal and professional, and our sterling reputation for creating magnificent--truly custom designed and built home wine cellars--is unrivaled.
Company site: http://www.washingtonvalleycellars.com
Article summary: http://www.winespectator.com/magazine/show/id/50342