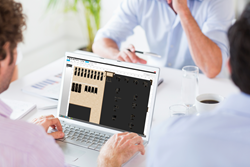 Ecdesign 4.1 can truly bring a client's project to life
Örebro, Sweden (PRWEB) September 02, 2014
Swedish software developer Easysale Sweden announces the launch of Ecdesign 4.1, the new solution when it comes to interactive 3D gym design and floor space planning. Ecdesign 4.1 makes it possible for non CAD users to quickly plan and visualize gym layouts in interactive 3D using gaming technology.
The announcement was made today at the company headquarter in Örebro, Sweden, where CEO Richard Grönberg said, "The fitness market is a $76bn industry and there is a growing demand for 3D presentations when planning new or refurbished gym locations. The problem has been the cost and time to create floor plans in 3D. The new technology behind Ecdesign 4.1 makes it faster and easier than ever before to create detailed 3D floor plans, which is perfect for a fitness sales organization looking to incorporate 3D proposal to clients".
The process of space planning a gym location is changing. A well planned gym is crucial when attracting new members. Traditionally the gym owner would receive simple 2D drawings of the space, when ordering new fitness equipment. The 2D drawing would show equipment position in the club, but it could not give the owner a true understanding of what the club would look like when completed.
"The new Ecdesign 4.1 will include 3D models from 35 leading fitness equipment manufacturers. Users can quickly plan detailed floor plans in 3D with real fitness equipment. As a result Ecdesign 4.1 can truly bring a client's project to life. Over 6,000 fitness 3D models are currently available for anyone to use in the planning process" said Richard Grönberg. "Using ECDESIGN when planning or proposing a project to clients will allow to provide visualizations that can influence the clients layout and product choices. It serves to both persuade clients to purchase equipment that the sales team think would be ideal for their facility but also to dissuade them from making poor equipment and layout decisions."
MORE INFORMATION
Richard Grönberg, CEO
richard(dot)gronberg(at)easysale(dot)se
http://www.easysale.se
ABOUT EASYSALE SWEDEN
ECDESIGN is a Swedish 3D space planning software developed by EasySale Sweden. The company was founded in 2004 and its head office is in Örebro, Sweden. The first software generation was primarily used by the automotive aftermarket industry, making it possible to quickly plan and visualize repair shops in 3D without having to use complicated CAD software solutions.
Today ECDESIGN is used all over the world to plan and visualize repair shops, fitness clubs, offices, retail stores and factories. 1500+ companies and organizations in over 90 countries use ECDESIGN in the sales process.