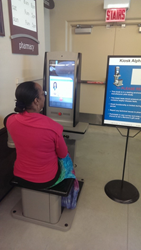 Until recently the medical community has considered biometric kiosks to be a novelty – unsupported by clinical evidence. PharmaSmart's unique validity and ability to accommodate large arms has been recognized in multiple medical journal publications.
Rochester, NY (PRWEB) September 03, 2014
PharmaSmart® International Inc., an Inc. 5000 list and Rochester, NY Top 100 company, announced the debut of its next generation biometric kiosk, the Model PS2000 (D)estination™, which recently completed a pilot inside Mariano's, the Midwest's most exciting food destination, with 26 stores located in the Chicagoland Metro area. This is the latest production to be released from the company's Rochester, NY based health kiosk manufacturing and distribution facility.
George Kowalski RP, VP of Pharmacy for Roundy's Supermarkets Inc. parent of Mariano's stated, "PharmaSmart has impressed us in recent years with important innovations in clinical accuracy and Health IT. Because of their track record we elected to pilot the new PharmaSmart PS2000 (D)estination™ kiosk inside one of our newest locations. We can see with this new release, PharmaSmart further enhances the patient experience and expands the clinical reach for our pharmacists."
The new kiosk targets hypertension, obesity, and diabetes. The device accurately measures left and right arm blood pressure, weight/BMI, and is equipped with the option to upload patient glucose data. Patients receive a printed ticket that displays blood pressure, blood sugar and BMI results all in less than three minutes. Patient data is also uploaded to a HIPAA/PIPEDA compliant cloud-server where the data is made available to partner clinical systems, including major pharmacy software systems, physician EMR systems, PHR's and consumer mobile devices. The kiosk incorporates an interactive multi-media platform, compatibility to loyalty cards, couponing and offers virtual education on hypertension, diabetes and obesity.
This announcement follows a string of accomplishments dating back to late 2013.
Dr. Mark Gelfer, MD, a specialist in hypertension and blood pressure devices, stated, "Until recently the medical community has considered biometric kiosks to be a novelty – unsupported by clinical evidence. PharmaSmart's unique validity and ability to accommodate large arms has been recognized in multiple medical journal publications. No other kiosk company has earned this type of recognition. The addition of weight, BMI, and glucose data grows the opportunity further. Pharmacists now have live access to validated patient biometrics, which allows for timely interventions and therapeutic counseling. Ultimately, this improves pharmacy's collaborative care value proposition."
George Kowalski, Mariano's VP of Pharmacy continued, "We see the PharmaSmart kiosk as a unique opportunity for Mariano's Pharmacists to incorporate validated biometric screening into our workflow as it can positively influence a patient's therapeutic outcome. This opens up important new clinical opportunities for revenue and empowers our pharmacists to go beyond conventional practice scenarios."
Ashton Maaraba, PharmaSmart's Chief Operating Officer states, "With this new product launch, we have further strengthened both our clinical standing and product portfolio. We remain focused on delivering both a high-quality brand and revenue from easy-to-administer clinical services to all clients. We are grateful to clients such as, Mariano's for their commitment to deliver quality health care services by relying on the PharmaSmart brand." Maaraba further adds, "At Mariano's the D-unit pilot proved a tremendous success and we are thrilled with the results. We all agree, Pharmacy leaves millions of dollars on the table every year. Every interaction patients have with a clinically qualified kiosk is an opportunity to drive clinical services. To convert this opportunity pharmacies need an easy-to-use, reliable kiosk supported by clinically validated, peer reviewed science. The entire process must be integrated into pharmacist workflow. Our product manufacturing, Health IT and PS DataSmart® data mining platform is earning the support of payers, providers and big Pharma. I am excited because this is a testament to our overall success as a health services centric organization."
About PharmaSmart®
PharmaSmart®, headquartered in Rochester, NY, USA, currently manufactures and distributes both its Health Kiosk Technology and Health Integrated IT Software out of its Rochester based facility serving more than 6,000 locations, including retail pharmacies such as Kinney Drugs, Bartell Drugs, Coborns, Nash Finch, Roundy's/Mariano's, Associated Food Stores, Leader, McKesson Health Mart, Good Neighbor, Astrup Drug, Winn Dixie, Big Y Foods, Harmons Grocery, Wal-Mart Canada, Safeway Canada, Loblaw's, Le Groupe Jean Coutu, Shoppers Drug Mart, Rexall/Katz Group, Sobey's Lawton's, and other fine pharmacies. PharmaSmart® also serves major worksites, military bases, University Schools of Pharmacy, hospitals and medical clinics. PharmaSmart's PS DataSmart® Health IT database currently holds more than (30) million targeted patient blood pressure readings. For more information visit the company's website at http://www.PharmaSmart.com or contact corporate communications Shauna Delahanty-Thomas at (800) 781-0323.
About Roundy's
Roundy's is a leading grocer in the Midwest with nearly $4.0 billion in sales and more than 25,000 employees. Founded in Milwaukee in 1872, Roundy's operates 148 retail grocery stores and 97 pharmacies under the Pick 'n Save, Copps, Metro Market and Mariano's retail banners in Wisconsin and Illinois. Roundy's is committed to helping the communities its stores serve through the Roundy's Foundation. Chartered in 2003, the Roundy's Foundation mission is to support organizations working to relieve hunger and helping families in crisis due to domestic abuse, neglect and other at-risk situations.
Media Contacts
For PharmaSmart®:
Shauna Delahanty-Thomas
Marketing Supervisor
sdthomas(at)pharmasmart(dot)com