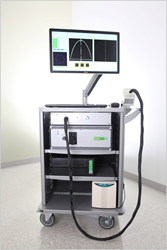 Novel visualization tool enables non-destructive high precision, full shape metrology of optical devices.
MORRISVILLE, NC (PRWEB) September 15, 2014
Bioptigen announced today the availability of a newly developed deep imaging OCT system for the optical device metrology and pre-clinical ophthalmic research markets.
The EnvisuTM S4410 SDOCT for Contact Lens Metrology is designed for non-destructive, non-contact, full immersion measurements for standard and high complexity contact lens, IOL structures, and donor tissues. The metrology system allows imaging of a complete contact lens immersed in a hydration bath (saline), automated segmentation of anterior and posterior surfaces, and quantification of curvatures across both surfaces. The system delivers 5 microns axial pixel resolution, 11 mm scan depth in saline, and a full 20mm lateral field of view. The device is calibrated to a high degree of precision laterally and axially, and provides thickness precision to better than 1 micron and local curvature precision to 5 microns. "This latest advancement from Bioptigen introduces an unparalleled deep imaging, and high precision full shape measurement system to device developers and manufacturers", said George Wildeman, Bioptigen's Vice President of Business Development, adding "This innovation provides direct value to device developers, presenting the capability to accurately visualize and analyze high density images of full field 3-dimensional, structures". Bioptigen has begun shipping the Envisu S4410 metrology system to major contact lens metrology OEMs.
About Bioptigen
As a pioneer in the development and manufacture of leading edge Spectral Domain Optical Coherence Tomography (SDOCT) equipment and software, Bioptigen is helping researchers and developers open windows into the wonders of ocular development and the mysteries of ocular disease. Deployed in top ophthalmic research and clinical institutions worldwide, Bioptigen SD-OCT systems are supported by over 40 awarded patents. Bioptigen manufactures and sells SD-OCT systems from the company's Morrisville, North Carolina operations center. Bioptigen S-Class and R-Class SDOCT systems are contra-indicated for human use. Learn more about Bioptigen and its technologies at http://www.bioptigen.com.
Bioptigen Media Contact:
Ann Poorboy
Commercial Operations Project Manager
Phone: 1 919-314-5500 ext. 1263
apoorboy@bioptigen.com
http://www.bioptigen.com