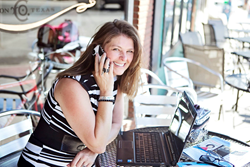 I have always had the vision of taking Bookkeeper Girl nationwide and making it America's online bookkeeper," says Pollard. "By moving Bookkeeper Girl to a licensee model, I'm able to ... help other entrepreneurs make their dreams a reality as well.
Denton, TX (PRWEB) September 15, 2014
Bookkeeper Girl Inc. – a leading online bookkeeping service located in Denton, TX – announced today that it is America's newest (and possibly only!) partner-licensed, online bookkeeping service. Bookkeeper Girl, which was started six years ago by Kim Pollard with a laptop, a loyal client, and an idea of making bookkeeping affordable for small businesses – has decided to expand its business nationwide by offering bookkeepers the opportunity to license Bookkeeper Girl in their local area.
"I have always had the vision of taking Bookkeeper Girl nationwide and making it America's online bookkeeper," says Pollard. "By moving Bookkeeper Girl to a licensee model, I'm able to make this vision a reality and help other entrepreneurs make their dreams a reality as well."
Bookkeeper Girl first opened its virtual doors in 2008 and opened its first physical office later that year in Denton, TX. In 2009, Pollard expanded her business with a remote office in Dallas. In 2011, the company added an office in Austin, TX, and in 2013, the office in Abilene joined the burgeoning company.
Growth even in tough economic times
The online, remote bookkeeping business has remained quite successful during the tough economic times of the past six years. Bookkeeper Girl has an online system that uses technology to provide a personal touch without all the expense and time drain of a face-to-face meeting.
"We have clients who have started their business during this time, and we are able to handle a whole department for them," Pollard said. "We do everything online and save them so much money."
They use Intuit QuickBooks for managing their clients' finances, and through tools such as Yammer, Skype, email, and texting they are able to communicate securely and efficiently to provide their clients the experience of having a bookkeeper on staff without the added expense. From Day 1, Pollard believed that through the use of technology she could reduce the cost of payroll and bookkeeping to just pennies on the dollar and provide small businesses with an essential service to help their businesses grow. And Bookkeeper Girl has grown right along with them!
Adopting a licensee model
The other vision that Pollard had from the very beginning was to be the number one provider of outsourced bookkeeping and payroll services nationwide, but Pollard was impatient with the model of expanding one office at a time.
"After working this business for six years, I knew that the business model worked," says Pollard. "I'm very big on not duplicating effort needlessly, and every time I developed a process, I did so with the idea of replicating it across the country in other offices. After opening several satellite offices, I realized that I now had a repeatable formula that I could share with other entrepreneurs in order to expand Bookkeeper Girl more quickly and help even more small business owners."
Bookkeeper Girl is launching its licensed model with seven consultant locations that it lovingly calls the Super 7. These locations include:

Abilene, TX – Sandra Hernandez
Dallas, TX – Mary Powell
Dallas, TX – Cindy Waldrop
Denton, TX – Ellen Ryfle
Illinois – Lisa James
Iowa – Katherine Northway
Kentucky – Darlene Prather
(Please see separate releases for each of these licensees.)
Walking the talk
In expanding to the licensee model, Bookkeeper Girl decided to give up its physical corporate headquarters office and go virtual once again by partnering with co-location work spaces in its various licensed locations. The first such co-location partnership – also announced in a separate release today - is with TechMill in Denton, TX.
TechMill - a non-profit group assembled by members of the Denton community – announced today a new partnership that will add to its already flourishing concept of providing a co-working space to foster a more unified business community in Denton by giving businesses a common place to work, meet new people, and share ideas. Banter Bistro of Denton, located on the square and co-owned by new Bookkeeper Girl consultant Ellen Ryfle, has been formally named "home" for this co-working space.
"You don't have to be a tech business to get the benefits of working here," said Marshall Culpepper, president of TechMill. "This is a place to meet and use each other's services. We want Denton to stay a local, tight-knit community, and it was only a matter of time before we would find people who want to be a part of this culture. Bookkeeper Girl is not a traditional tech company, but she provides services that any business needs. For a startup, what better way to get that off their shoulders than to work with someone like that here in Denton? It was a natural fit."
As a TechMill sponsor, Bookkeeper Girl pays for a startup business to be a member of the co-working space, which gives that person unlimited access to advice, technology, networking, priority seating, use of locked storage, discounts on food at Banter, and free coffee and tea. By doing so, Bookkeeper Girl gets increased advertisement and visibility on the Square while TechMill gets the added bonus of working with someone who, in any other instance, would not have the resources to connect on such a dynamic level.
It takes a community…
Since the beginning, Pollard has believed in giving back to the community that supports her. In addition to working with the local universities to create internships at Bookkeeper Girl, Pollard also provides free bookkeeping services to area non-profits and contributes time and money to local programs such as the What's Your Plan Be Scholarship Fund, inspired & directed by one of her friends in business Libby Spears.
"I have always told my employees and consultants that we have to have a serving heart," says Pollard. "That means that not only do we give back to our community by donating free bookkeeping services, but even with our paying clients, we have to approach our work with the mindset of service. We are here to serve our clients, whether that is a multi-national restaurant like Which Wich or a non-profit like Hearts 4 Homes." Pollard feels blessed that she has a successful company and that through it she can help support her community and the communities of her consultants. For Pollard service is not just an idea, it's something that she truly takes to heart.
About Bookkeeper Girl - Bookkeeper Girl provides personalized online bookkeeping and payroll services for the franchisee, franchisor, and small business owner for all industry types in Denton, Dallas, Austin, TX, and the US. Affordable, Online, and Trustworthy have proven to be the key traits to our success. When you join our team, you receive weekly bookkeeping, monthly bank & credit card reconciliations, a partnership with your CPA, and a team whose customer service skills bring maximum benefits to you and your team! Find more information about Bookkeeper Girl on our website at BookkeeperGirl.com.
Press Inquiries –
Melissa Cox
PR for Bookkeeper Girl
469-288-2084
melissa(at)ACLARUSme(dot)com
###