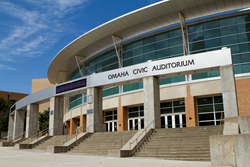 Omaha, NE (PRWEB) September 22, 2014
On October 3 and 4 2014, The Auction Mill invites buyers to attend a live liquidation auction (with online bidding) of the historic Omaha Civic Auditorium beginning at 10am (CDT). The auction will take place on-site at the Civic Auditorium, and will host three auction rings selling simultaneously; the major auction ring will happen in the Music Hall, the second ring on stage in the Assembly Hall, and a live uncatalogued auction ring will be selling in the Mancuso Hall on day one, and in the Exhibition Hall on day two.
The Omaha Civic Auditorium, a multi-purpose convention center in Omaha, Nebraska, hosted various notable events before closing its doors in June of 2014. Elvis Presley held one of his final concerts at the Civic Auditorium in June of 1977. It was also the site of the "WWF in Your House" pay-per-view in 1996, as well as the "You're no Jack Kennedy" speech during the vice-presidential debate between Lloyd Bentsen and Dan Quayle. The Omaha Civic Auditorium was home to numerous sports teams, including the Creighton Bluejay's men's basketball team, and the University of Nebraska at Omaha's hockey team.
Basketball flooring, hoops, hockey rink, Zambonis, Arena Hall and Music Hall seats, 15+ modern concession stands, modern catering kitchen, material handling, locker rooms, fixtures, equipment, safes, historic memorabilia & signage, telescopic bleachers, historic piano, stages, elevators, and thousands of other items from the Auditorium are up for bid. A daily-updated listing can be viewed at http://www.theauctionmill.com/auction/236051/omaha-civic-auditorium-liquidation-auction/. There will be one contractor on-site for hire to assist with removal of purchases. This contractor is the only company allowed to remove major items (including both arena and theater seats, lighting, speakers, cabinets, and other industrial salvage) unless other arrangements have been made with the auction company. No property may be removed until fully settled for.
Personal tours for high quantity and high end potential purchasers, along with two or three inspections or open houses will be available. An open preview will take place the evening of Thursday, October 2, in which buyers may register for a bid card for the auction event and enjoy appetizers and a complimentary beverage.
There will be a 10% buyer's premium that applies to all purchases. Sales tax of 7% will be charged on all items unless a tax exempt number is provided at registration. Dealers and resellers must provide a tax exempt certificate number to avoid paying this sales tax. After The Auction Mill has sold a piece of equipment, it becomes the sole responsibility of the purchaser. The final day for load out of purchases will be Friday, October 24.
The Auction Mill's goal is to satisfy the needs of clients in a manner that generates the highest return in an ethical, professional, and efficient way.
For additional information, please visit: http://www.theauctionmill.com/auction/236051/omaha-civic-auditorium-liquidation-auction/, or contact Tom Millie at 402-885-4916 or tom(at)theauctionmill(dot)com.