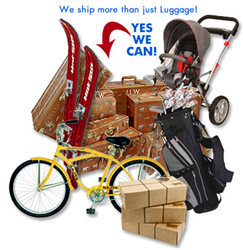 Traveling weights on no one.
(PRWEB) September 18, 2014
Baggage & Parcel Service, LLC (BPS) was created to offer their customers a hassle-free way of traveling at a reasonable rate for the entire family.
BPS is owned and operated by a retired Air Force veteran; BPS was started as a response to the underserved market to provide a better service than just "status quo". The focus is to offer a better quality of baggage and parcel delivery service and hire a better caliber of staff for the service industry. While serving four (4) east coast areas with expansion in the coming months, BPS can handle a variety of delivery and logistics needed up and down the eastern seaboard of the United States.
With locations servicing Baltimore, MD., Washington, D.C., Dulles, VA., and Orlando, FL., BPS prices are a low one set fee. BPS doesn't charge for excess overweight bags and/or parcels. Therefore, clients are billed a reasonably low fee for each piece.
BPS offers the opportunity to ship luggage/parcel ahead while avoiding the inconvenience of carrying, checking and claiming bags. Give BPS your shipment three (3) days in advance to guarantee the best of service. BPS is guaranteed, allowing customers to avoid unnecessary hassle, save time and money and travel safely.
BPS offers the most convenient way to retrieve your items to fit your busy schedule, 24/7. Customer Service staff is available 24 hours a day, seven days a week, even on holidays. BPS removes the hassle, worry, stress away from their customers while they travel with knowing that their luggage has arrived at their desired final destination.
"No Wait at the Airport"
One of the most strenuous aspects of travel is the process associated with checking and waiting on your luggage. Shipping ahead with BPS eliminates these aggravations.
"No Excess Baggage / Parcel Fee"
Without the hassle associated with waiting in line to check luggage, many airline are enforcing excessive baggage fees. BPS ensures no excess baggage fees.
Baggage & Parcel Service, LLC is a first-class luggage and package shipping service; ship directly to your destination while avoiding high airline fees and long lines.

Save 35% on your Traveling Needs
Weight Allowance up to 100 lbs.
Low Flat Rate of $18.75 per piece
Service Guaranteed (**When luggage/parcel is received at least three (3) days in advance)
BPS ship luggage, strollers, bikes, golf clubs, and packages any non-hazardous products to your location.
http://www.BAGGAGEPARCELSERVICE.COM
"Traveling Weights On No One"
855-817-5717