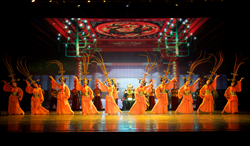 Terracotta Warriors 3D opened in Beijing as the world's very first 3D theatrical production.
Beijing, China (PRWEB) September 24, 2014
Unlikely as it would seem, a new musical, Terracotta Warriors 3D, opened in Beijing as the world's very first 3D theatrical production on September 2, 2014. Associated with that event, a previously unknown venue in Beijing has just become the world's first 3D digital theater. This has history-making implications! With the increasingly popularity of 3D cinema, the claim of being the first 3D theatrical production in human history is notable enough, but to have this happen in China is truly a shocking surprise. After all, even though Japan became the world's most dominant imitator for decades after the Second World War, China has surpassed Japan as the greatest imitator since the last quarter of the twentieth century. Now, it is showcasing something that is the first in world history?
This game changer is based on Terracotta Warriors 3D's use of the first large 3D LED video wall as the backbone of its art direction. The most worthy aspect of this first-of-the-kind LED video wall is that great 3D effects can be appreciated by the audience using common passive polarizing 3D glasses used by 3D cinemas worldwide. Dr. Dennis Law, the director and producer of Terracotta Warriors 3D claims: "Given the technology today, true and high quality 3D effect can only be achieved by wearing 3D glasses. This unique LED video wall used by Terracotta Warriors 3D is the first one manufactured in the world suitable for theatrical use. That is why the audience will experience a theatrical experience that has never been achieved before. I am certain 3D theater will improve with time, but the fact remains that it started on September 2, 2014 with Sight, Sound & Action's Beijing production of Terracotta Warriors 3D."
The producers of this historical 3D show believe that the alternative of "glasses-free 3D" offers image quality that is both too poor and too dependent on center-position viewing to be useful in theater applications. Other methodologies like "3D-mapping" do not really offer real 3D effects useful in a story-telling stage setting. Conventional high-end 3D projectors used in modern cinema are ineffective in stage works because theatrical lighting washes out the projected image too drastically. Lastly, even though excellent 3D imagery can be obtained using a specialized LED video wall with active battery-dependent 3D glasses, this application is totally impractical for theatrical live-show use. Active 3D glasses not infrequently lose their synchronization with the screen --- with hundreds in the audience, huge uproars are inevitable as batteries lose power and synchronization is dropped intermittently.
Terracotta Warriors 3D has successfully solved most of the important problems with regard to live actors performing and dancing in front of the high definition 3D video screen. Our 3D LED video wall is truly the first in the world. A pioneering 3D digital post-production company in Beijing has overcome unique difficulties with regard to launching this history-making show with eighty minutes of 3D digital graphics and animation. For the first time, the human brain has been asked to appreciate real-live 3D (as in live dancers on stage) and virtual 3D effects and scenic background at the same time ---- and successfully so!
Being the very first in world history is a rare opportunity indeed. It would be hard to argue against Terracotta Warriors 3D's legitimate claim. Check for more details at http://www.BeijingEntertainment.net and http://www.tcw3d.com.
Monique Q.
V.P. Marketing, U.S.,
Sight, Sound & Action USA office
5161 E. Arapahoe Rd. Suite 330
Centennial, CO 80122
e-mail: info(at)eArtChina(dot)net