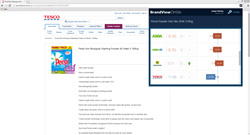 'Thanks to Brand View OnSite', says Sam Sudlow, Commercial Director at Brand View, 'it has never been easier to acquire market intelligence by surfing the web.'
Reading, UK (PRWEB UK) 20 September 2014
Brand View OnSite is a browser extension that makes it easy for retailers and manufacturers to monitor and react to competitor pricing and promotion.
Users can review how their products' pricing and promotion compares against competing stores while browsing both on their own website or a competitor's.
Brand View OnSite is the market-leading price and promotion browser extension with its easy one-click launch and immediate insight, including:
● Pricing across retailers
● Promotions and promotional text
Retailers and manufacturers can monitor how their products compare against those of their competitors, specifically which products are priced higher or lower than the competition.
This is the first time daily price comparison has been available to the UK grocery market within retailers' websites.
'Thanks to Brand View OnSite', says Sam Sudlow, Commercial Director at Brand View, 'it has never been easier to acquire market intelligence by surfing the web.'
Brand View OnSite adheres to a user's specific product matching rules, ensuring that all data and product matches meet individual business needs.
Brand View can also integrate manufacturer's RRP data and benchmark the price variation across stores.
While Brand View OnSite offers easy access to pricing data directly from a retailer's site, users can also click into Brand View's definitive analytics to see more detail.
About Brand View
Brand View is the leading international provider of real-time price, promotion and online product positioning tracking. We enable our clients to measure and manage their price position, communicate this to shoppers, as well as increasing their digital presence and product content integrity. Trusted by the biggest names in the industry, Brand View's easy to use, powerful analytics give clients an unparalleled insight into the competitor landscape.
Seamless coverage of online and bricks and mortar stores – including North American, European, Australian and Brazilian markets – together with easy integration of proprietary data facilitates immediate benchmarking of value proposition, promotional activity and online position against competitors through instant, integrated insights into when prices change, promotions begin, new products are listed and e-commerce performance.
Our combination of online and field collected data integrates seamlessly with our customers' own data to present a single, holistic view of the market.
For more information and a 14 day trial email sales(at)brandview(dot)com or visit http://www.brandview.com.