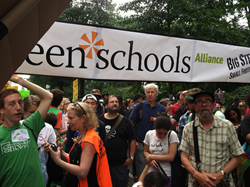 The book focuses on the human side of the issues because those are where the causes are.- Paul Fleischman
New York, NY (PRWEB) September 24, 2014
Eyes Wide Open will kickoff off a tour that will include Minnesota, Wisconsin, Seattle and Washington DC. 2015 will find Paul Fleischman and his new book in Florida classrooms and the Eco E-book Citywide Read Kick Off.
We're living in an Ah-Ha moment. Take 250 years of human ingenuity. Add abundant fossil fuels. The result: a population and lifestyle never before seen. The downsides weren't visible for centuries, but now they are. Suddenly everything needs rethinking – suburbs, cars, fast food, cheap prices. It's a changed world.
Given the dizzying array of ways that information swirls around us in today's media-driven culture, it's often tricky to get the real facts about what's happening in the world. Newbery Medalist Paul Fleischman found this to be the case when his own curiosity and concern about the state of the environment was piqued by his personal observations, and he encountered a plethora of conflicting information in his research.
His latest book, Eyes Wide Open: Going Behind the Environmental Headlines (Candlewick, Sept.) was born from his experience, and is meant to help teens identify key environmental problems and show them how to navigate and critically evaluate information to discover what's really going on. Not with isolated facts, but the principles driving attitudes and events, from vested interests to denial to big-country syndrome. Because money is as important as molecules in the environment, science is joined with politics, history, and psychology to provide the briefing needed to comprehend the 21st century.
The new book release is timed with Climate Week NYC which coincides with the UN Climate Summit, creating a unique opportunity for the world's most influential individuals and groups to come together and create urgently needed momentum ahead of 2015's critical climate talks in Paris.
Now in its sixth year, Climate Week NYC offers a vital platform for the bold leadership and innovative collaboration we require to secure a safer, more prosperous low carbon future. Through a busy week of high-profile events, business panels and public-facing activities happening in and around New York City, Climate Week NYC has become a key international forum for governments, businesses and civil society. Fleishman will participate in Climate Week events to spread the message of the book to readers.
Fleischman views the biggest piece of misinformation to be the paralyzing assumption, more felt than spoken, that there's no hope of making the transition in time – something no one can know. Fleischman implores readers, "We've only been seriously trying to change course for a decade or so, against tall odds – and yet the ship is starting to turn. What better time to have open eyes?"
Eyes Wide Open has already received four starred reviews. Publishers Weekly called it a "challenging and provocative overview of current environmental and sociological problems, which urges readers to think critically and broadly about the world." While Booklist lauds the author: "A Newbery Medal–winning writer, Fleischman notes that he is "no trained scientist," but his exceptional ability to organize the information here and present it articulately makes him a notable citizen scientist."
About the Author
Paul Fleischman won a Newbery Medal for Joyful Noise: Poems for Two Voices and a Newbery Honor for Graven Images. He is the author of numerous books, including picture books, young adult fiction, poetry, plays, and nonfiction. Paul Fleischman lives in Santa Cruz. For more information, please visit: http://www.paulfleischman.net/.
Media Contact:
Joan Joffa, publicist
j.joffaacme(at)verizon(dot)net
813-831-8646