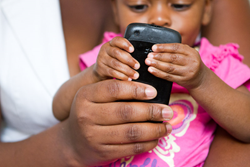 (PRWEB) September 26, 2014
On Monday, September 29th from 3 – 5pm, the International Centre for Diarrheal Disease Research, Bangladesh (ICDDRB), with support from USAID's Translating Research into Action Project (TRAction), will be hosting a Satellite Session, "Mobile Health (Mhealth) Messages in Promoting Good Practices for Maternal and Newborn Health Care in Bangladesh" on the intervention package and research findings of the MAMA Bangladesh program, Aponjon.
With a view to utilize the immense potential of mobile health (mHealth) interventions for improvement of maternal and newborn health, the Mobile Alliance for Maternal Action (MAMA) undertook an initiative for delivery of health messages on critical health behaviors and practices. In Bangladesh, D.Net, a local NGO, through social franchise with MAMA, launched a contextualized mHealth messages program called Aponjon for women and their families. ICDDRB, with funding support from the USAID, has been commissioned to evaluate the Aponjon by exploring the accessibility, acceptability and effectiveness of the intervention by the end-users. The objective of the satellite session is to introduce to the global community the Aponjon mHealth intervention package and the related research findings which has huge potential to scale-up for health benefit of mothers and their babies.
The Session will be chaired by Dr. Mahbub Elahi Chowdhury, Principal Investigator, ICDDRB (Bangladesh), and moderated by Dr. Patricia Mechael, Senior mHealth Advisor at the United Nations Foundation (USA). Presenters include: Rizwana Rashid Auni, Chief Executive Officer at D.Net (Bangladesh), Dr. Fida Mehran, Head of Content, MAMA at D.Net (Bangladesh), Dr. Rasheda Khan, Senior Research Officer at ICDDRB (Bangladesh), and Dr. Lumbini Roy, Communication Specialist at ICDDRB (Bangladesh).
To learn more about the session and how to register: http://hsr2014.healthsystemsresearch.org/satellite-sessions/mobile-health-mhealth-messages-promoting-good-practices-maternal-and-newborn
For questions contact:
Josie Mangxaba
Research Manager, MAMA
jmangxaba(at)mobilemamaalliance(dot)org
About MAMA:
Mobile Alliance for Maternal Action (MAMA) delivers vital health information via mobile phones to new and expectant mothers living in poverty throughout developing countries. Hosted by the United Nations Foundation, MAMA provides age and stage-based messages aligned with global best practices, empowering women to make the best decisions for themselves and their families. MAMA was launched in 2011 by then Secretary of State Hillary Clinton as a public private partnership between USAID, Johnson & Johnson, United Nations Foundation and BabyCenter. For more information visit: http://mobilemamaalliance.org.