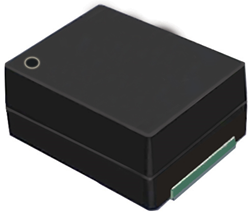 In continuation of Abracon's pursuit of high technology offerings, Abracon has introduced the world's smallest profile OCXO solutions, based on proprietary MercuryTM technology, patented by Rakon
Irvine, CA (PRWEB) October 29, 2014
A globally preferred leading supplier of frequency control and magnetic components, Abracon Corporation introduces the world's smallest profile surface mount OCXO, measuring just 9.7x7.5x4.3mm.
"In continuation of Abracon's pursuit of high technology offerings, Abracon has introduced the world's smallest profile OCXO solutions, based on proprietary Mercury(TM) technology, patented by Rakon," explains Syed Raza, director of engineering at Abracon Corporation.
"Abracon's channel partnership with Rakon enables us to offer a sophisticated OCXO technology-solution in an industry leading form-factor. By leveraging our respective technical and application engineering expertise, Abracon has brought to market a unique solution that offers considerable advantages to system designers seeking to minimize form-factor and reduce costs," continues Raza.
Potential applications for these oven-controlled, crystal clock oscillator solutions include: Stratum-III, small cells, switches and routers, time and frequency references, SyncE and IEEE 1588, test and measurement equipment and point-to-point communication networks.
Key features include:

Standard available frequencies: 10.00, 12.80, 20.00 and 24.576MHz
+3.3V bias with standard LVCMOS output
Low operating current drain of 122mA maximum steady-state at 25°C ±3°C
Frequency stability options from ±20.00 ppb to ±50.00 ppb over -40ºC to +85ºC
< ±2.00 ppb/day aging with a maximum ±3.00 ppm aging over a 10-year product life
Available frequency pull-ability of ±5.00 ppm minimum
Tight 24-hour hold over accuracy (< ±4.00 ppb)
Typical acceleration sensitivity of < 2 ppb/g (all three axes)
Excellent phase noise, harmonics and spurious content
Space-saving, 9.7x7.5x4.3mm SMT package
Low-cost
The AOCJYR series will be available through Abracon's Global Distribution Network beginning January 2015.
Abracon Links:
For technical assistance with this product, please contact Abracon Corporation at tech-support(at)abracon(dot)com.
Abracon Corporation was established in 1992 with the vision of becoming a top tier global manufacturer of Frequency Control, Signal Conditioning, Clock Distribution and Magnetic Components with local design and technical support. Abracon provides its customers with high quality products, competitive pricing, timely delivery, reliable engineering and technical support, plus production flexibility worldwide.