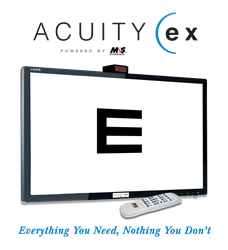 Niles, IL (PRWEB) October 25, 2014
M&S Technologies, the first name in computerized vision testing systems, will be exhibiting for the first time at the Inter-American Course in Clinical Ophthalmology hosted by Bascom Palmer Eye Institute, October 26-29, 2014.
The Inter-American Course is designed for practicing ophthalmologists in Latin America and the Caribbean, to provide maximum emphasis on practical approaches to select clinical problems.
The ACUITYex vision testing system that will be showcased at the tradeshow consists of a compact, high-performance, low-voltage computer, a 22" HDMI LCD monitor (customer-supplied if the practice is outside the US) and a direct access remote control. Affordably priced, the system offers immediate access to letter, numeric, pictorial and non-literate optotypes with varied isolation displays. One-touch sizing allows decreases and increases up to 20/400 and includes eight additional commonly-used vision tests, such as basic letter contrast and fixation disparity.
About M&S Technologies:
Founded in 1990, M&S Technologies is a software company specializing in visual testing systems and dedicated to developing the very best products for eye-care professionals, optometry schools and universities, and products used in clinical trials. To date, over 23,000 systems are in use across 39 countries with a growing network that includes 25 distributors and several strategic industry alliances. Superior service, industry-leading technology and products that define the cutting edge have been the hallmarks of M&S for over 20 years.
For more information, please contact:
Carolyn Crabb
Marketing Coordinator
M&S Technologies, Inc.
847-763-0500
ccrabb(at)mstech-eyes(dot)com
###