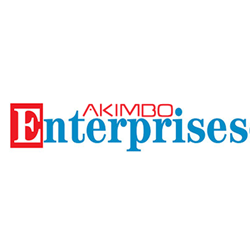 (PRWEB) January 10, 2014
Robert Dobbin is pleased to announce the creation and launch of his new website venture, http://www.AkimboEnterprises.com. The website features a large and broad array of products for home-use. This includes kitchen items to bathroom décor, along with gardening items such as tools and plants. Mr. Dobbin hopes to provide a plethora of items for customers of many walks of life, since the inventory includes so many different areas of home living that everyone can use in their daily lives.
The website is not only a great source for the various home needs of many aspects of living; AkimboEnterprises.com is also an Amazon affiliate. The website always has specials of the day, from Britta water filters for the kitchen to Charmin bath tissue to restock the bathroom. Dobbin takes pride in offering a useful suite of products and ideas that can be used by anyone. His customer base is broad since most people need household items, whether they live in a large home or small apartment.
Dobbin intends on expanding the inventory even further, offering more beach towels, bath linens, soap dispensers and much more on AkimboEnterprises.com. Other than trying to offer a large selection for the many tastes of his broad customer base, Mr. Dobbin places high importance on customer service. The website makes reaching out to the company easy by offering a contact form on their site in addition to the customer service line and email address.
To complement the main website, Dobbin is also launching a blog located at http://www.AkimboInfo.com. The blog will cover the various products along with the various trends in interior design and home decorating. Dobbin also plans to include the new products and tools that will be soon hitting the market. The posts on the blogs will give customers ideas on how to use the products in a way that will best complement the design and functionality of their home.
About the Company:
AkimboEnterprises.com is owned and operated by Web entrepreneur Robert Dobbin.
****
Robert Dobbin
http://www.AkimboEnterprises.com
(888) 519-2421
iePlexus, Inc.
http://www.iePlexus.com