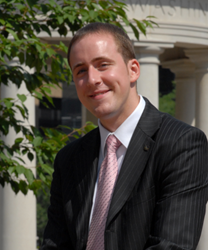 As the League looks to the future, we welcome Michael's fresh ideas, positive attitude, and passionate commitment to the community. — George Lambert, president and CEO of GWUL.
Washington, DC (PRWEB) February 12, 2014
The Greater Washington Urban League (GWUL) Board of Directors has appointed Michael P. Akin as the new chairman of the Board of Directors.
Akin succeeds Jerry A. Moore III, who is stepping down from the position after 35 years of committed service to the League and the community, including 19 as board chairman. Moore will maintain an active role within the community.
Akin is the president and founder of Reingold LINK, a D.C.-based strategic communications and community engagement firm. Akin has been an active supporter of the League, first as a member of the Advisory Board and then of the Board of Directors. In 2013, Akin served as chairman of the League's 75th Anniversary Gala, where he spearheaded an effort to raise a record amount of funds for the organization's critical efforts. He also served on the search committee to select a new president and CEO for the League. Additionally, under Akin's leadership, LINK committed to a multi-year pro bono strategic communications initiative to build the League's branding, membership, and fundraising efforts.
"Michael has already made huge contributions to the League as a board member and I am confident he will excel as board chair," said George Lambert, president and CEO of GWUL. "As the League looks to the future, we welcome Michael's fresh ideas, positive attitude, and passionate commitment to the community."
Akin takes the helm of GWUL's 40-member Board of Directors, composed of some of Washington's most respected business and civic leaders.
"I am deeply honored and truly humbled to be leading this venerable institution." Akin said. "I look forward to building upon the League's legacy of empowerment to confront the very real civil rights, social justice, and social service challenges we face today."
Moore, Akin's predecessor, retired from a law firm as a partner in 2012. He has served as chairman of the League's board since 1995.
"It has been a great privilege to lead GWUL for the past two decades," Moore said. "The League's devotion to the people of the Washington area is unparalleled, and I am proud to have been, and continue to be, a part of it."
Maudine R. Cooper, who in December 2013 retired as president and CEO of the League after 23 years, served as the head of GWUL throughout Moore's tenure.
"I am thankful for Jerry Moore and his relentless support of the League," Cooper said. "He is an outstanding and reliable leader who has truly helped the League advance—by leaps and bounds—our mission to provide services to those who need them the most."
Prior to founding LINK, Akin was vice president of the community and government relations practice at Reingold Inc., a national communications firm in Alexandria, Va. Previously, he served as the George Washington University's (GW) assistant vice president of government, international, and community relations. In that capacity, he oversaw and managed the university's outreach to city, state, and federal officials and agencies; embassies; business, civic, and cultural organizations; and community groups.
Akin received a 2006 GW Award—the university's highest honor—for advancing GW's mission in the Washington community with competence, integrity, and good will. In 2011, GWUL recognized Akin with the Chairman's Award for his work in advancing the League's mission, and the D.C. City Council adopted a formal resolution to acknowledge his contributions to positive and collaborative community action.
Born and raised in Sackets Harbor, N.Y., Akin moved to the District to attend GW and has been a resident ever since. He graduated magna cum laude with a bachelor's degree in political communication. He also holds an M.B.A. from GW. In addition to GWUL, some of Akin's other community activities include serving as board member of Destination DC, Cultural Tourism DC, and Think Local First. He lives with his wife Wendi in Washington, D.C.
About the Greater Washington Urban League
The Greater Washington Urban League provides more than 50,000 residents in the Washington, D.C., region with education and employment training, health and nutrition, food and utility assistance, affordable housing, and community development programs and services. Our mission is to increase the economic and political empowerment of African Americans and other minorities and to help all Americans share equally in the responsibilities and rewards of full citizenship. The League is one of 98 affiliates of the National Urban League and is a member agency of the United Way of the National Capital Area. For more information about GWUL, please visit http://www.gwul.org or contact Communications Director Robyn Wilkes at rwilkes(at)gwul(dot)org.