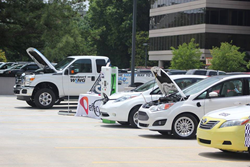 MD-DC-VA (PRWEB) November 10, 2014
Maryland Clean Cities and Virginia Clean Cities, are collaborating on a new, 4-city educational tour of the Mid-Atlantic region, November 18th-21st, with a showcase of clean-fuel vehicles (everything from cars to big trucks) and experts touting the benefits of propane, natural gas, electric and biofuels to replace traditional gasoline and diesel. While gas prices dip temporarily, long-term planners continue to evaluate the fuel and maintenance savings behind America's new clean fuels. The Tour will visit Baltimore County, Montgomery County, Richmond and City of Chesapeake during a series of 3-hour events.
The 4-Day tour opens in Baltimore County at Element Fleet Management in Sparks on 11/18 and moves to Montgomery County the following day, at its recently completed David E. Bone Equipment Maintenance Operations Center (EMTOC) in Rockville. The project is part of County Executive Isiah Leggett's Smart Growth Initiative and was designed from the beginning to support an advanced fleet of conventionally and alternatively fueled public transit vehicles. The County will host demonstrations of fueling for compressed natural gas, electric and E85 Flex Fuel Vehicles during the event, and a provide a tour of the 13-building facility. Montgomery County Department of General Services Director David Dise, will speak about the leadership role they have taken, and successes with alternative-fueled vehicles, along with other fuel experts.
"The city of Richmond is pleased to be one of the cities welcoming this roadshow on November 20th," said Mayor Dwight C. Jones. "We have a Green Richmond Initiative, under which we converted all of our refuse trucks to run on compressed natural gas. Richmond also became the first city in Virginia to build a new compressed natural gas fueling station to service our fleet of refuse trucks. We are saving money, operating more efficiently and being friendlier to the environment, and our city is a wonderful backdrop for the Alternative Fuel Vehicle Roadshow."
The City of Chesapeake, an early leader in finding ways to save fuel costs, hosts the Roadshow's 4th and final tour stop on November 21st at Chesapeake Conference Center. Discussing the benefits of fleet conversion, Mayor Alan Krasnoff states, "Obviously, this is about saving money now, but it is also about meeting our obligation to create a more livable city for the next generation which is always the right thing to do." City Manager Jim Baker agrees. "The results from our program to incorporate alternative fuels in our large fleet of vehicles have been amazing. Chesapeake now has 30 CNG powered solid waste trucks which have saved the city over $472,973 in fuel costs since we placed them in service in August 2012. We also have 12 LPG powered vehicles which have saved us over $26,505 in fuel costs since they were placed in service in mid-2013. We are very pleased with our successes, but there is more we hope to do in this area as time goes on."
Tour Stops:

Tuesday, November 18th 9a-12n Baltimore County, Element Fleet Management 940 Ridgebrook Road, Sparks, MD 21152
Wednesday, November 19th 9a–12n Montgomery County, David F. Bone Equipment Maintenance and Transportation Operations Center (EMTOC) 17000 Crabs Branch Way Rockville, MD 20855
Thursday, November 20th 9a-12n Richmond, Historic Main Street Station and Cathedral Walk 1500 E. Main St. Richmond, VA 23219
Friday, November 21st 9a-12n City of Chesapeake – Chesapeake Conference Center 700 Conference Center Drive, Chesapeake VA 23320
Each event opens with an outdoor vehicle showcase from 9am-10am, followed by an indoor seminar (10am-12n) with featured speakers including Chesapeake Utilities, BGE, Sharp Energy, Nissan, Honda, GM, Amerigas, Trillium, Element Fleet Management, and the Clean Fuels Development Coalition (Ethanol-E85) covering the basics of safety, conversion, cost-returns and financing. Local utilities, fuel suppliers and manufacturers of vehicles like the EV Nissan LEAF, Flex-Fuel Chevy Impala, Honda's CNG Civic and propane autogas trucks, all the way up to Class 8 tractor trailers, are putting an effort into promotion and education, touting the long term cost savings and environmental benefits.
History: The Tour is a collaboration with area Clean Cites Coalitions nationwide, and will feature lead-in introductions from Alleyn Harned, Virginia Clean Cities Executive Director. Since 2011, these short, localized education programs, which have been conducted in 43 cities throughout the southeast, have attracted important fleets and city leaders because they bring low cost (due diligence type) information to the decision makers who are operating long hours and high mileage vehicles. "These are the fleets that present the greatest opportunity for advancing our clean energy economy and reducing greenhouse gases, says Tour Executive Producer, Joy Kramer. "Clean energy is not a left or right issue, but an issue of national pride and prosperity. It's also an issue of local economics. As China is projected to consume 25 million barrels per day of oil by 2025, the price of gas and diesel can only go up. The Alternative Fuel Vehicle Roadshow is the starting point for that change"
Events are free to attend with advance reservation and the code VIP2014. More information is at http://www.AFVRoadshow.com