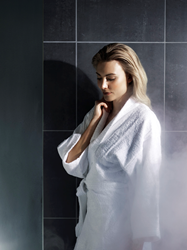 Jim Hass of Amerec - "...Steam is truly the perfect touch of luxury for any bathroom, regardless of size."
Woodinville, WA (PRWEB) March 30, 2014
The home remodeling industry is back. As Mike LaFollette of Angie's List states, "After two straight years of solid growth in the home remodeling industry, the Remodeling Futures Program at Harvard University predicts "double-digit [percentage] gains in annual home improvement spending" through the first half of 2014." Many of the planned remodels include an upgraded bathroom, and many are warming to the idea of steam showers.
Matt Muenster of the DIY hit show BathCrashers shared his Top 10 Bathroom Trends, and included in the list was steam showers, along with several other features Amerec states can be added to the steam shower with their system. With chromatherapy, a variety of colors can be added to the steam shower, from bold to subdued, while the tile can remain a beautiful white subway tile or possibly recycled glass. Also on the list is the introduction of music, which can be achieved in a variety of methods.
At HGTV, Sean McEvoy notes in his article on Modern Bathroom Design that many of the styles come from the Nordic countries of Europe, to which Amerec is related through its parent company, TyloHelo World Group. As McEvoy states, these bathroom remodels can range in size from "tiny to titanic." Jim Hass, sales director for Amerec, stated:
"The beauty of including a steam shower in a bathroom remodel is that it can be included anywhere a shower is planned, provided the shower is fully enclosed. With fold down seats, a standard shower (approximately 36"x36") provides enough room to relax in the enveloping heat of steam. Unlike soaker tubs and other popular additions, a steam shower only requires a seat, a steam head, and a sensor to be located in the room. Steam is truly the perfect touch of luxury for any bathroom, regardless of size."
To learn more about Amerec's line of steam shower generators, controls, and accessories, as well as their saunas, visit http://www.amerec.com or call 1-800-331-0349.