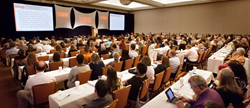 Our 2014 fall event is shaping up to be the best example yet of this guiding principle. We look forward to welcoming new and returning attendees alike.
Portland, ME (PRWEB) June 25, 2014
The Institute of Finance & Management (IOFM), a business unit within Diversified Communications, has announced tracks and topics for the Fall 2014 Accounts Payable Conference & Expo. IOFM's event, scheduled for Oct. 26-29 at The Mirage Hotel & Casino in Las Vegas, NV, promises several workshops and presentations full of information pertinent to the accounts payable professional's job. Additionally, a day of pre-conference certification classes and exams will provide attendees with the opportunity to earn accreditation.
"AP Expo's objective, always, is to deliver highly relevant, actionable content to our attendees," said RD Whitney, executive director, IOFM. "Our 2014 fall event is shaping up to be the best example yet of this guiding principle. We look forward to welcoming new and returning attendees alike."
Anyone who registers for AP Expo Fall 2014 by June 20th will save $400. For information on sponsoring AP Expo Fall 2014, please contact Brian Cuthbert - bcuthbert(at)divcom(dot)com.
AP Expo Fall 2014 is the only AP membership meeting strictly focused on accounts payable education and practical approaches to automation, leadership and process improvements. AP Expo Fall 2014 attendees gain access to professional intelligence, which helps them to reduce costs for their departments and organizations, stay in compliance, and advance in their careers.
Oct., 26—the Sunday immediately preceding the main conference and expo—will feature classes for the following AP-related certifications. Attendees have the option to take the associated exams on site.

Accounts Payable Specialist (APS) or Accounts Payable Manager (APM) Certification
Form 1099 Bootcamp and Certification Training Class
Also on that day, pre-conference workshops will explore a wide range of subject matter:
Emerging Topics in Accounts Payable at Colleges & Universities
Best Strategies for Developing a Top AP Automation Plan
Detecting and Preventing Accounts Payable Fraud
How You Can Clean up you Vendor Master File in 30 Days or Less
AP Strategy & Leadership for a Continuously Improving Culture
Getting the Most Payback from Your P-Card Program
Compliance Strategies: Form 1042 S and Foreign Vendor Reporting
How to Do an Accounts Payable Process Review
Every year an array of AP-focused vendors populate the expo floor, and a lengthy roster of speakers deliver content essential to accounts payable practitioners' professional development. This year's main conference and expo will be no exception. Presenting at AP Expo Fall 2014 will be speakers from a broad spectrum of industries—for example, CITGO Petroleum Corporation, Gap Inc., University of Louisville, LinkedIn, and others. Experts will share their wisdom in the following three tracks (examples of their presentations' titles appear below each track):
AP University

How to Achieve Significant Returns with Selective Automation
Fraud Prevention in T&E, P-Cards and Other AP Essentials
Operations & Compliance

1099 Tax Reporting Update
Mining 'Big Data' in Accounts Payable and Supply Chain
What's Working in Automation

Transforming AP through Automation
Accounts Payable in 2020: Automation in the Coming Revolution
About AP Expo Fall 2014
Through study of world-class accounts payable departments' best practices, attendees of AP Expo Fall 2014 will learn the latest thinking on how to improve their own operations. The latest tools and approaches to save money and avoid fines will be on display and explored at AP Expo Fall 2014, where accounts payable practitioners will find an environment that encourages career advancement and facilitates peer networking. There, they will encounter inspiration from leaders in the field of finance and accounts payable. To receive up-to-date information on the show, anyone, including AP professionals and organizations whose areas of discipline intersect with IOFM's, follow @iofmapexpo.
About the Institute of Finance & Management
The Institute of Finance & Management (IOFM) is the leading source and largest provider of tools, resources, research, training, certification programs, and events in the rapidly evolving field of financial operations. IOFM runs three membership networks: The Accounts Payable Network (TAPN), The Accounts Receivable Network (TARN), and The Controller's Network (TCN). Membership helps professionals advance their careers and organizations improve their processes through access to proprietary information, best practices, and expert insights. In 2014, IOFM will host five events to facilitate education and networking in financial operations including: Accounts Payable Expo East and West, The Controllers Conference & Expo, The AP & P2P Leadership Conference, and The Payments Summit. IOFM is a business unit within Diversified Communications, a global organization operating on four continents and a major independent producer of events and media worldwide. For more information, visit http://www.iofm.com.