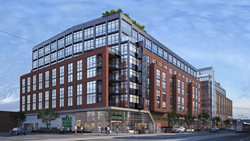 "The central location of the project helps tie the corridor together and will make the Apollo a destination." - Insight Partner Trent Smith
Washington, DC (PRWEB) September 17, 2014
Arlington, Virginia-based multifamily developer Insight Property Group and institutional investors advised by J.P. Morgan Asset Management announced today that construction has begun on the Apollo mixed-use apartment project in the heart of DC's dynamic H Street NE corridor. The Apollo will include luxury apartment units, an urban Whole Foods Market plus other exciting retail that will add to the vitality of the project and its neighborhood. This LEED-certified project will also feature state of the art amenities including a green roof with Capitol views. The Apollo project will be served by Metro, Amtrak at nearby Union Station, the City's new streetcar line and an on-site Capital Bikeshares facility.
According to Insight Partner Trent Smith, "The Apollo is located about midway between Union Station to the west and H Street's Atlas District to the east. That central location," he says, "helps tie the corridor together and will make the Apollo a destination." Smith adds that the project concept was built on three years of collaboration with neighboring residents, ANC's and City planners: "All of us envisioned a pedestrian-friendly, urban village and a visible focal point for the Street and neighborhood."
Construction on the Apollo has begun with the demolition of the existing Murry's grocery store and H Street Self Storage buildings. When finished, the eight story, concrete-frame structure, will contain 431 units, 75,000 square feet of commercial space including the Whole Foods Market and 432 parking spaces in a two-level, below-grade parking structure.
Building amenities for the Apollo residents will include a 24-hour concierge, fitness center, three outdoor courtyards, a business center and a rooftop penthouse with a demonstration kitchen, game room and lounge area. Flanking that penthouse will be an expansive roof deck with a two-tiered pool, a fire pit, outdoor kitchen, cabanas and tiered deck seating with views of the Capitol. Nearby will be an outdoor movie screen and grills. The broad green roof will include garden plots, a turf lawn and a dog park.
Germany-based Helaba (Landesbank Hessen-Thuringen) provided the construction loan for the project. Susan Carras, Walter Coker and Brian Crivella of HFF's DC office assisted with the project equity and the project debt placement.
The Apollo is part of Insight's growing presence in the DC-area multifamily and mixed-use development market. Insight has nearly 1,000 apartments currently under development. These projects include the Apollo, the Fenwick and The Shelby. The Fenwick is a 310-unit luxury apartment building (http://www.fenwickapts.com) located near the Metrorail in Silver Spring, Maryland that recently delivered its initial units. The Shelby (http://www.theshelbyapartments.com) is a recently delivered 240-unit luxury apartment project near the Huntington Metro in the Alexandria section of Fairfax County, Virginia. Both are now leasing apartments through DC-based Bozzuto management. In 2013, Insight completed its Grayson Flats apartment project in Arlington, Virginia. Insight has also acquired 572 existing apartments in four Metro DC-area locations, including Metro Rosslyn Apartments in Arlington, Virginia.
*************************
Founded by longtime multifamily industry veterans Richard Hausler and Michael Blum, Insight Property Group LLC acquires, repositions, and develops well-located apartments and mixed-use real estate in the Washington, D.C. metropolitan region. The principals have over 70 years of experience in the area real estate industry. For more information on insight, visit: http://www.insightpropertygroupllc.com.
J.P. Morgan Asset Management – Global Real Assets has more than $76 billion in assets under management and more than 400 professionals in the U.S., Europe and Asia, as of June 30, 2014. With a 40-plus-year history of successful investing, J.P. Morgan Asset Management – Global Real Assets' broad capabilities provide many of the world's most sophisticated investors with a global platform of real estate, infrastructure, maritime/transport and energy strategies driven by local investment talent with disciplined investment processes consistently implemented across asset types and regions.