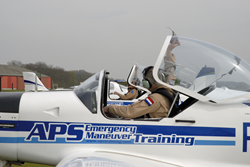 "APS is honored to represent SXC's high standards and is uniquely qualified to provide this training due to our extensive experience training professional pilots in the unique environment of extreme flight profiles."
Breda, The Netherlands (PRWEB) May 06, 2014
Space Expedition Corporation (SXC), a global space travel pioneer, and Aviation Performance Solutions LLC (APS), a world leader in airplane upset prevention and upset recovery training, announced today their partnership in Europe to provide specialized training missions to SXC astronaut candidates in preparation for space travel. The astronaut candidates will participate in thorough academic instruction and a rigorous flight-training mission in a high-performance aerobatic aircraft located at the APS Europe branch at the Breda International Airport (Formerly Seppe Airport) in The Netherlands.
The "On-Aircraft G-Force Training Mission" forms an integral part of a compilation of optional SXC training missions structured to condition and prepare candidates for their space flight. Clarke "Otter" McNeace, VP of Flight Operations for APS and former US Navy fighter pilot, says: "APS is honored to represent SXC's high standards and is uniquely qualified to provide this training due to our extensive experience training professional pilots in the unique environment of extreme flight profiles." The G-Force training mission requires the candidate to endure Zero-G flight for 10 seconds twice and sustained 4-G flight for over 20 seconds. In addition, the candidate must demonstrate he or she actively contributed to the safety of the flight mission. SXC believes that if a candidate can successfully complete the academic and flight requirements with APS, they will be better prepared physically and mentally to more fully enjoy their upcoming space flight.
About SXC (Space Expedition Corporation)
SXC will perform daily commercial flights into space as of 2015. Passengers will have a life-changing experience viewing planet Earth from 100 kilometers high and, having traveled to that altitude, they can rightly be called astronauts. SXC's XCOR Lynx II spacecraft is designed and built by XCOR Aerospace in Mojave, California USA. SXC is the launching customer of this space vehicle that comfortably takes off and lands like a normal airplane, from regular airports. The breakthrough technology of this reusable spacecraft signifies a completely new era for the aerospace industry, enabling superfast, long range, environmentally friendly travel outside our atmosphere. For more information, please visit http://www.spacexc.com.
About Aviation Performance Solutions LLC (APS)
Aviation Performance Solutions LLC (APS) headquartered at the Phoenix-Mesa Gateway Airport in Mesa, Arizona USA, has trained thousands of professional pilots in fully comprehensive upset recovery skill development. For two decades, APS has been committed to giving professional pilots of all skill levels the highest quality upset prevention and recovery training available. At its locations in Mesa (Arizona USA) Dallas (Texas USA) and The Netherlands (Europe), APS offers comprehensive LOC-I solutions via industry-leading web-based, on-aircraft, and advanced full-flight simulator upset recovery and prevention training programs. All APS upset recovery training courses are in compliance with the Airplane Upset Recovery Training Aid – Revision 2 and the recently released EASA SIB 2013-02 on Stall and Stick Pusher Training. http://www.apstraining.com