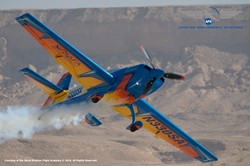 Joining with APS is in direct alignment with SAFA's mission to fuel the growth of aviation in the Kingdom of Saudi Arabia through our world-class center of excellence for pilot training.
Orlando, Florida (PRWEB) October 21, 2014
Aviation Performance Solutions (APS), an Arizona-based and headquartered global training organization, announced today at the National Business Aviation Association (NBAA) event in Orlando, the opening of its fourth worldwide training location in Riyadh, Saudi Arabia. This announcement places APS training locations across three main continents in the northern hemisphere - an unprecedented global achievement in the on-airplane upset prevention and recovery training (UPRT) community.
The Saudi Aviation Flight Academy (SAFA) already has its new Extra 330LX on-site in Riyadh and their primary APS UPRT instructor, Mr. David Radford, has just completed the 6-week APS On-airplane Upset Instructor Train-the-Trainer program in Arizona. SAFA Professional Pilot UPRT services start on 16 November 2014 where SAFA airline cadets, executives and instructor staff will be the first to receive APS training programs. Mr. Radford is the former Chief of Flight Safety and Standardization Director from Training Squadron SIX in Milton, Florida and former Chief of Navy Air Training in Corpus Christi, Texas with several thousand hours of all-attitude maneuvering experience. Effectively delivered upset recovery training mitigates the loss of control in-flight (LOC-I) threat to air safety through pilot education and practical skill development.
"Joining with APS is in direct alignment with SAFA's mission to fuel the growth of aviation in the Kingdom of Saudi Arabia through our world-class center of excellence for pilot training," said Captain William Roe, the Managing Director at SAFA, "We have partnered with APS because they have a proven record of providing fully comprehensive and guaranteed life saving skills, to enhance any pilot's ability to recognize, avoid and recover from virtually any airplane upset, unusual altitude or stall/spin entry flight condition."
"It is a great honor to welcome SAFA as the exclusive licensed provider of several key APS Upset Prevention and Recovery Training services programs in Saudi Arabia," says Paul BJ Ransbury, president of Aviation Performance Solutions, former military pilot, upset recovery instructor and airline pilot, "SAFA is dedicated to producing professional pilots equipped to significantly reduce the risk of loss of control in-flight during licensing training and subsequently throughout their careers."
ABOUT AVIATION PERFORMANCE SOLUTIONS
Aviation Performance Solutions LLC (APS), an Arizona limited liability company, headquartered at the Phoenix-Mesa Gateway Airport in Mesa, Arizona USA, has trained many thousands of professional pilots in fully comprehensive jet upset prevention and recovery training skill development. With additional training locations in Dallas (Texas, USA), The Netherlands (Europe) and most recently a licensed location in the Middle East (Riyadh, Saudi Arabia), APS has been committed to giving professional pilots of all skill levels the highest quality upset prevention and recovery training available. APS offers comprehensive LOC-I solutions via industry-leading computer-based, on-aircraft (jet and piston), and advanced full-flight simulator upset recovery and prevention training programs. In addition to all flight training being in full compliance with the internationally-recognized Airplane Upset Recovery Training Aid – Revision 2, FAA Aviation Circular 120-109 on Stall and Stick Pusher Training and the recently published ICAO Manual on Aeroplane Upset Prevention and Recovery Training, APS is the only Part 141 Flight School currently certified in the delivery of complete upset prevention & recovery, stall/spin and instrument upset recovery training courses worldwide. http://www.apstraining.com
ABOUT THE SAUDI AVIATION FLIGHT ACADEMY
Saudi Aviation Flight Academy (SAFA) is a GACAR Part 141 approved, pilot training academy with ultra-modern facilities contained in a purpose-built campus at the Thumamah Airfield, located 28 km northeast of King Khaled International Airport in Riyadh, Kingdom of Saudi Arabia. SAFA offers a hybrid mix of technically advanced training aircraft and simulation ensuring students receive the most cost effective, high quality training available today. The range of programs offered includes Private Pilot, Instrument Rating, Commercial Pilot, Jet Transition and Upset Prevention & Recovery (UPRT) training. http://www.saflightacademy.com