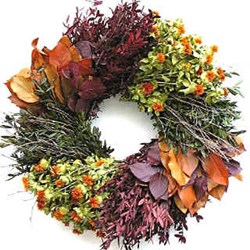 (PRWEB) January 17, 2014
Ann Cook is excited to announce the creation and launch of her new website venture, http://www.ArtificialWreathsForAllSeasons.com. The website features a large variety of artificial wreaths that are appropriate for all different seasons and major holidays. Cook has always loved wreaths but knows that, apart from Christmas wreaths, it can be difficult to find wreaths for other occasions, which is what inspired her to start her website, so that likeminded people who love wreaths would be able to have wreaths for their front doors all year round.
There are many excellent wreaths featured within the merchandise of ArtificialWreathsForAllSeasons.com. No matter if a customer is looking for typical wintry wreaths or wreaths that are more in tune with summer, autumn, or a particular holiday, they can always be sure to find what they are looking for on the website. There are candy corn wreaths for Halloween and rose wreaths for Valentine's Day, among many other different themed wreaths. In the future, Cook plans to further expand the product lines offered in the online store. By periodically updating the site's merchandise, she hopes to encourage customers to keep coming back to the website to check out what new items have been added.
Customer service is something that is very important to Cook regarding each and every transaction made on ArtificialWreathsForAllSeasons.com. Cook wants to ensure that customers have positive experiences when browsing her website; this is why she has made certain that the layout of the site makes it easy to navigate so that customers can easily find the products that they are interested in.
To complement the main website, Cook is also launching a blog located at http://www.ArtificialWreathsReview.com. The blog will feature topics related to the different types of wreaths that are prominently featured in the online store and when it is appropriate to use them for certain occasions. Cook's goal with the blog is to help guide potential customers towards making informed decisions when purchasing products from the website.
About the Company:
ArtificialWreathsForAllSeasons.com is owned and operated by Web entrepreneur Ann Cook.
****
Ann Cook
http://www.ArtificialWreathsForAllSeasons.com
(803) 432-2561
iePlexus, Inc.
http://www.iePlexus.com